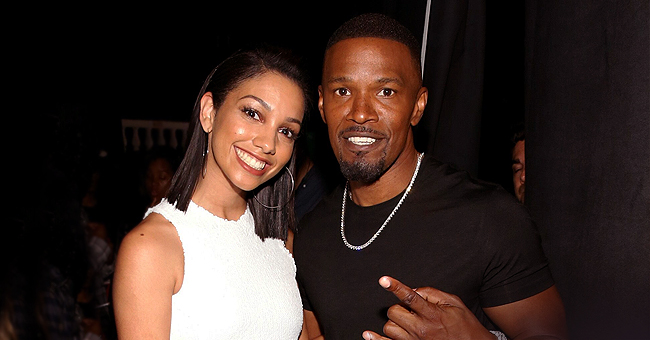 GettyImages
Jamie Foxx Is a Proud Dad as Daughter Corinne Makes Big Screen Debut in '47 Meters Down: Uncaged'

Jamie Foxx is happy to play the supporting role on the red carpet for his daughter Corinne, which is a welcome development after years of his daughter playing the part at his movie premieres.
Jamie Foxx's daughter is a renowned actress, treading in the footsteps of her dad and aspiring to become a legend, just like him. The 25-year-old, Corinne Foxx recently made her first major big break in the movie, "47 Meters Down: Uncaged."
The legendary actor accompanied his daughter to the red carpet, where he could not hide his excitement over her accomplishment. The proud father kept taking selfies of them as they walked the red carpet, and he could barely let her out of his sight throughout the event.
Jamie's pride knew no bound as he witnessed the onset of his 25-year-old daughter's rise to stardom. The actress/model understood her dad's feelings and explained it best to reporters at the event.
"He's so proud of me, he can't even look at me without tearing up." the '47 Meters Down: Uncaged" star revealed about her father.
The legend also had something to say about his feelings.
"I don't know what to do. I got butterflies. This is amazing. My Baby did great!" He told reporters at the premiere.
Jamie Foxx was not the only proud father at the movie premiere. The legendary actor, Sylvester Stallone, was also on hand to support his daughter, Sistine Stallone, who starred alongside Corinne in the movie.
The two girls played the roles of two teenage girls who went on a school trip and got caught up in the den of a great white shark, along with two other girls. Stallone's wife, Jennifer Flavin was also present at the red carpet event to support her daughter's rise to fame. It was an event filled with proud parents.
Following the movie premiere, the 51-year-old Foxx took to Instagram to express his pride for his accomplished daughter. He wrote:
"As soon as the movie started and I saw my baby on that screen… my nerves became pure adrenaline… and my fear turned into absolute pride."
The actor affirmed that his daughter's accomplishments at 25 were solely her doings, and not through an act of nepotism. Although, report has it that she won the Miss Golden Globe 2016 Award, only thanks to her famous father. She also starred in her father's film, "Fox Game Show Beat Shazam," but it was never released.
Notwithstanding how the actress scored her roles in the past, it is undeniable that the 25-year-old model and actress is very talented.
Please fill in your e-mail so we can share with you our top stories!