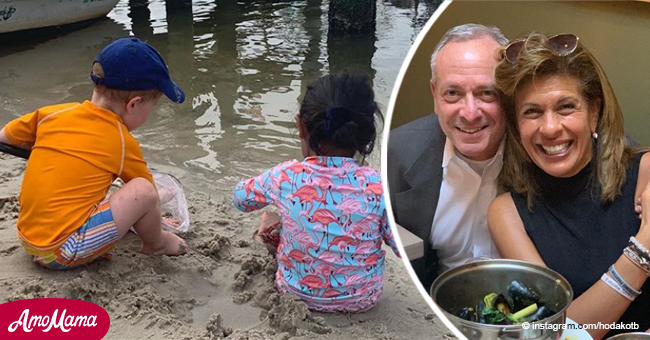 Shutterstock
Hoda Kotb Shares Photos of Daughter Haley Hanging out with Dylan Dreyer's Son Calvin

Hoda Kotb's daughter and Dylan Dreyer's son went on a "perfect" playdate by the beach as seen in the cute photos captured by their moms.
The "Today" show's hosts, Hoda Kotb and Dylan Dreyer, watched over their toddlers as they had a summer playdate. Haley Joy and Calvin Bradley looked carefree as they enjoyed the summer sun by the beach on Saturday.
Kotb, a proud mom-of-two, posted a series of photos on Instagram where her daughter and Calvin could be seen playing by the shore and sitting on the beach chairs.
"One of my fav days of the summer. Calvin+Haley. We loved it," Kotb captioned the post.
Dreyer, who is expecting a baby, also shared different photos on her Instagram, showing the kids on top of a bridge and another sitting on the sand. She captioned her post:
"Shouldn't all days be this happy? Calvin and Haley catching up on old times… Thanks @hodakotb for a perfect day for all of us!!"
Dreyer revealed her pregnancy with baby number two during one of last month's airing of the "Today" show. Her friends and fans sent her well-wishes on social media, including Kotb, who posted a sweet photo pointing at her co-hosts baby bump.
Before the announcement, Dreyer opened up about her infertility issues, including a miscarriage as she tried to conceive a second child. She and her husband, Brian Fichera sought medical help, only to be diagnosed with secondary infertility.
Mayoclinic described the condition to be the "inability to become pregnant or carry a second baby to term after previously giving birth to a baby." Dreyer's case was a "very low egg count" and a scar on her uterus that she got after her delivery with Calvin.
After undergoing a procedure to help with her problem, she quickly got pregnant, but sadly, suffered a miscarriage five weeks after. Despite her struggles, Dreyer pushed her emotions aside and carried on with work.
Eventually, months later, good news came upon the couple, and she got pregnant with her second child. Everyone was happy for Dreyer and celebrated through sweet messages on social media.
Please fill in your e-mail so we can share with you our top stories!