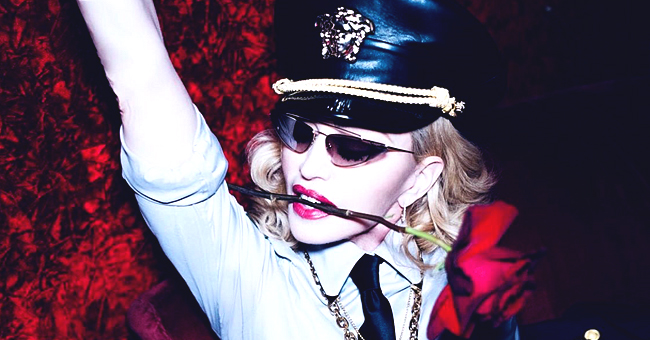 instagram.com/madonna
Madonna's Children David and Mercy Offer Sweet Music Tribute on Her 61st B-Day
Madonna is 61! The queen of pop got a heartwarming music tribute from her 13-year-old children, David and Mercy, during her party, and they nailed the performance.
Madonna has been around for a long time, and over the weekend, the musical queen celebrated her 61st birthday with family and friends.
MADAME X CAME OUT TO PLAY
The singer shared several posts on Instagram to celebrate her big day, and she brought out her iconic alter ego, "Madame X." In one of the posts, Madonna dressed in a green army general get up, white shirt with a black tie, shorts, and rocked aviator sunglasses.
In another, the "Like a Prayer" crooner shared a video of herself and friends dancing to a song by Tseku. Her comment section had nothing but good wishes for the singer, with cosmetic guru, Jerrod Blandino, commenting,
The highlight of the party was Madonna's 13-year-old son and daughter, David and Mercy, performing a sweet music tribute in her honour. The teenage boy sang "Your Song" by Elton John, while his sister played the piano.
The siblings were later joined by their mother, who sang along happily. In an Instagram post, she wrote,
"Best present ever, when your children sing to you."
People had also had rounds of tequila shots, pizza, and Cacio e Pepe catered by Madonna's celebrity chef friend, Francisco Panella.
MADONNA IS SET TO GO ON TOUR
Madonna's birthday celebration came amid her preparation for her upcoming tour, that kicks off on September 12. The "Like a Virgin" singer has been sharing several posts on social media detailing her exercise routine to get in shape for the theatre-themed concerts she would be giving.
In one of the posts, Madonna dressed in an all-black outfit made a perfect split and displayed her flexibility with a lot of stretches. However, in between rehearsals, Madonna has been spending time with her children. In an interview with Radio.com, she said, "If I'm in rehearsal, they come to me. My kids come to see me when I get home, and then I go back to rehearsals." She added, "I usually try my best to have many meals with them as possible."
"Stop thinking, just live your life, and don't be influenced by society trying to make you feel some type of way about your age, or what it is you're supposed to be doing."
Please fill in your e-mail so we can share with you our top stories!