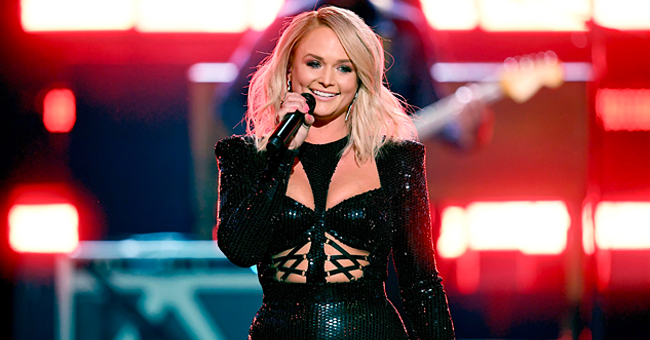 Getty images
Miranda Lambert Rocks Fishnet Tights and Flirty Smile on the Cover of Her New Album

Miranda Lambert just announced the release date of her new album and at the same time treated fans to a new single from the upcoming collection.
Lambert, 35, is giving fans what they want in 2019 with the release of her new album called "Wildcard." The country star's last album was released back in 2016.
This one is set to hit stores on November 1. According to Pitchfork, Vanner Records/ RCA Records Nashville will release the album which was produced by Jay Joyce — a first-time collaborator for the artist. The post is found below.
Along with the official release date, Lambert also dropped a new single for fans called "Bluebird." She shared a snippet on the Instagram post and the full song on YouTube. It was reportedly co-written with Luke Dick and Natalie Hemby.
CMT news reported that Lambert said the record is meant for fans to know that she hears and see them. She called herself "just a girl from East Texas" who writes about her thoughts and her experiences.
She added, "I want people to get along, you know, just be who you are, own it and move on from the moments you couldn't live in."
Lambert has released other tracks from the album including "It All Comes Out in the Wash," "Locomotive," and "Mess With My Head." The country singer is currently on tour until early December.
She's also in the late honeymoon stages of her January marriage to police officer Brendan McLoughlin. The pair were spotted walking hand in hand through New York City last week.
Lambert and McLoughlin were also bonding with the latter's son Landon, reported Us Magazine. McLoughlin shares the nine-month-old with his ex-girlfriend Kaihla Rettinger. The birth came just three days before the NYPD officer met his future wife.
Back in June, Lambert spoke about her role as a stepmother to the little one. "My stepson is amazing," she told Extra. She said that her experience with her many pet dogs has already brought out that "womanly/motherly thing" but it was a "whole new journey" with Landon.
Lambert and her husband's marriage was kept private until she shared the big news with fans in February. The news still came as a shock since the two dated secretly in the months leading up to their union. These days, fans can enjoy the adorable couple via social media posts.
In July, Lambert's followers were delighted to see the two on a summer getaway at Lake Tahoe in the Sierra Nevada. Sporting a flowered swimsuit, denim shorts, and a red cap, Lambert looked the part.
Meanwhile, her husband opted to go shirtless and wore a pair of baby blue swimming shorts to enjoy the water. He also wore a cap, brown, and they both wore sunglasses.
"Lake Tahoe...a great show and a few really cool days off! #lakelife #roadfamily," Lambert captioned the post. People reported that McLoughlin took a leave of absence which allowed him to make the trip. Looks like the pair are making the most of their time together.
Please fill in your e-mail so we can share with you our top stories!