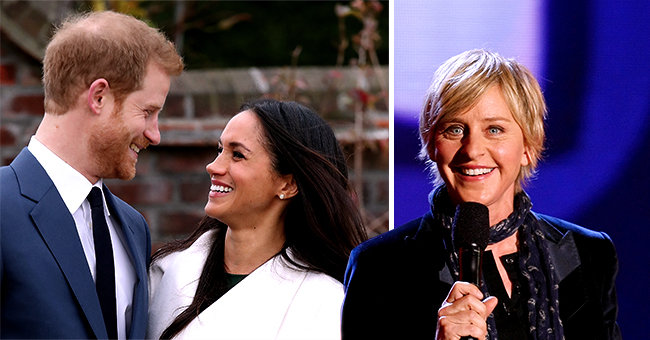 Getty Images.
Prince Harry and Meghan Markle Defended by Ellen DeGeneres after 'Private Jet' Criticism
Ellen DeGeneres defended Prince Harry and Meghan Markle amid criticisms of their use of a private jet. She referred to them as "down to earth and compassionate," amid other descriptions.
When it comes to Prince Harry and Meghan Markle's public image, it seems a lot of people are waiting for them to make a mistake, so as to harshly criticize them in the media.
Fortunately, the couple has high profile friends who speak up in their defense, and this time, it's Ellen. The TV host took to Twitter to speak in favor of the Royals after they got criticized for using a private jet. DeGeneres tweeted,
"Portia and I met Prince Harry and Meghan in England to talk about their work on wildlife conservation. They were the most down-to-earth, compassionate people."
Continuing in their defense, she added,
"Imagine being attacked for everything you do when all you are trying to do is make the world a better place."
The award-winning host felt the need to speak up for the couple after reports surfaced that rather than protect the environment they "claim" to fight for, the Royals added to the pollution by using a private jet and a Cessna plane.
Before DeGeneres spoke out, Elton John defended the Prince and his wife.
The acclaimed singer in a series of tweets noted that he provided the private means of air transportation for the Duke and Duchess of Sussex to give them privacy as they journeyed to Nice for a much-needed vacation.
The singer who was close friends with Princess Diana, the Duke's mother, asked the press to cease their "distorted and malicious" account of what happened.
He equally stressed that the private jet used is carbon neutral, and he made sure of it, being fully aware of the parents-of-one's stand on the environment.
The trip to Nice, France, was a short vacation taken by Prince Harry, Meghan, and their 3-month-old son, Archie. It was their second trip this summer; the first was to Ibiza, and they spent only one week in the French countryside.
So far, the representatives of the Royal couple have not commented on the criticism, but their Instagram account, Sussex Royal, shared a post that speaks volumes.
The post is a quote by the activist, Archbishop Desmond Tutu, with the words,
"Do your little bit of good where you are. It's those little bits of good put together that overwhelms the world."
While Prince Harry and Meghan might not have responded directly, the quote shows that they are more focused on their charity work, and will not let the words of their critics get to them.
Please fill in your e-mail so we can share with you our top stories!