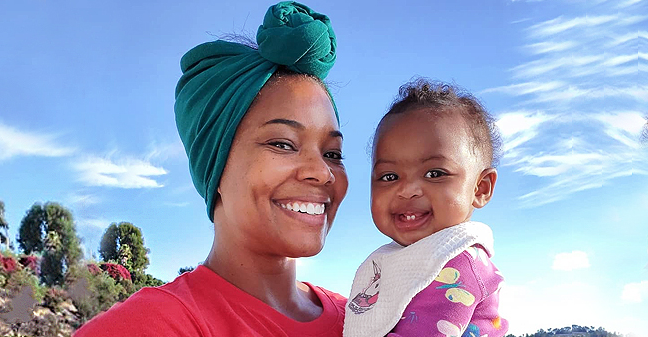 Instagram/gabunion
Gabrielle Union Shares Cute Video of 'Shady Baby' Kaavia Blowing Raspberries

9-month-old Baby Kaavia, the adorable daughter of Award-winning Actress Gabrielle Union brightens up our day with a video of her playfully sticking out her tongue.
Gabrielle had uploaded the video of her carrying Kaavia on her Instagram page and had captioned the post, "mood" and made her geotag "100 Percent FED up."
Kaavia James was born to Gabrielle Union and Dwayne Wade via a surrogate in November last year. Since the birth of Kaavia, Gabrielle has been consistent in flooding her Instagram page with heartwarming family photos we are blown away.
The video Union posted got 2million+ views and several comments. Majority of the comments points to the fact that Kaavia would be growing her teeth pretty soon.
One Instagram user @rbjobud Verified said:
"She gets cuter with every post"
GABRIELLE DOESN'T FEEL GUILTY
In an interview, Gabrielle told US weekly that:
"I don't have mom guilt, and I'll tell you why,"Being able to have the job that I love and the baby that I dreamed of [is wonderful]. I'm a better mom, because I'm able to go away and do what I love"
She added that:
"Even if I failed miserably, I'm following my dreams,"
"I would be less of a mother if I didn't set out every day to try to make my dreams come true and other people's dreams come true. So I don't have guilt."
This was her take on mothers needing or wanting to work.
Restaurateur Ayesha Curry, who also talked on motherhood agrees with Gabrielle that a happy and fulfilled parent is a better parent. She said that her three children with husband and hoop Steph Curry come second to their marriage.
She added that:
"Putting ourselves first, and making sure that we make time for date nights and for each other. That's been very important, as hard as it is,"
The "America's Got Talent" judge, said that she has a reliable support system. This system is made up of other mothers she works with on "America's Got Talent" and her other projects.
They all give each other encouragement, and they stay away from any talk that's judgmental. Gabrielle has her dream job and dream baby so there's no guilt.
Please fill in your e-mail so we can share with you our top stories!