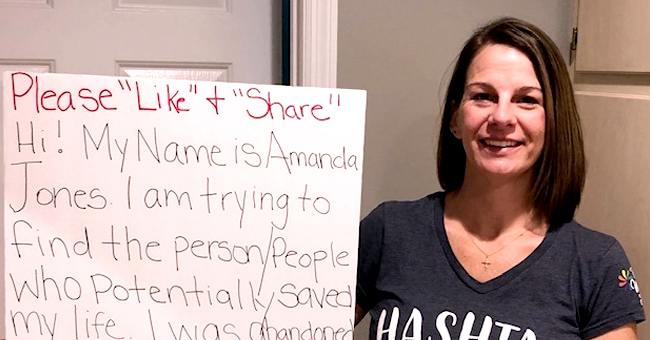 facebook.com/jo.honza
Amanda Jones Searches for Good Samaritans Who Rescued Her from a Dumpster When She Was a Baby

Amanda Jones turned to Facebook to help her find the people who rescued her from being abandoned in a dumpster in 1983: "I am trying to find the people who potentially saved my life."
Amanda Jo Jones is already 36-years-old but still longs to find the good-hearted people who "saved" her life after being abandoned in a dumpster by her biological parents, after she was born in 1983.
In hopes that Facebook can work its magic, she posted a sign that read her plea for help.
"Hi! My name is Amanda Jones. I am trying to find the person/people who potentially saved my life. I was abandoned as an infant at the Prado Business Mall at 5600 Roswell Rd (in Atlanta/Sandy Springs, GA) in January of 1983," she wrote.
A BIG GAP TO FILL
Jones' parents wrapped her in a blanket and left her in a Georgia dumpster during winter, not long after she was born in January 1983. A newspaper clipping from her discovery was kept and posted online by Jones as well.
Admittedly, Jones doesn't remember much of her lowest moment, given that she was an infant. However, her foster parents, Kay and Wayne, have been open about her life after adopting her at three months old.
"My mom read me a book called "The Adopted Family," and she shared bits of information," Jones told Yahoo! Lifestyle. "I kept asking questions, and by the time I was 6, I understood that my mom didn't birth me."
SEARCHING FOR HER IDENTITY
Jones was placed in foster care before being legitimately adopted. However, her adoption records are not complete; thus, a part of her past remains missing. In search of her identity, she sought help from DNA tests to determine relatives.
"I have done DNA testing and have decided to respect the privacy of those involved who wish not to communicate with me," she said of her birth parents.
EVER SO GRATEFUL
Despite the rough start to her life, Jones moved on and is now a mom-of-three, all thanks to the people who found her and her parents who raised her. She said:
"I want to thank whoever found me because they changed so many lives by being in the right place at the right time." She shared to AJC: "Whoever found me could have turned their back and said, 'I'm not getting involved.' They didn't."
A SIMILAR STORY
Similarly, Precious Bradley was abandoned as a baby after her parents left her on a doorstep of a daycare. Eventually, she found a home and family with the couple who adopted her but still wanted to know of her biological parents.
After 27 years, Bradley was able to find her biological parents through DNA services from Ancestry.com.
She revealed that she had no bad blood with her mother for deciding to leave her, stating that it could have been the best choice at that time.
Please fill in your e-mail so we can share with you our top stories!