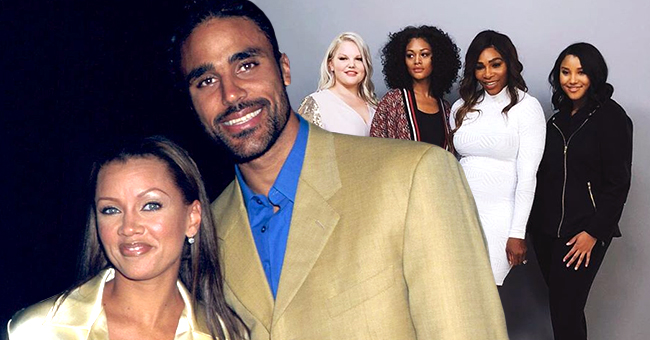 Instagram/sashafoxyy GettyImages
Vanessa Williams & Rick Fox's Daughter Sasha Shares Photo of Serena Williams and a Touching Message
Vanessa Williams and Rick Fox's daughter shared a photo she took with tennis pro, Serena Williams on social media. The adorable post came with a heartfelt and touching message.
Vanessa Williams and Rick Fox's daughter, Sasha Fox, who is all grown up, recently snapped photos with the tennis pro and fashion entrepreneur, Serena Williams.
Sasha shared on her Instagram a photo of herself, with Serena, and three other ladies, looking beautiful and chic. In the accompanying caption, she wrote,
"Special thanks to Serena Williams for always being an inspiration, and a great role model. Being part of the @Serena team is an honour, and a dream come true."
"@Serena" is the tennis player's fashion line, which she worked on for 15 years. The line got launched in May 2018, and Serena shared the news on Instagram.
The online brand caters to women of all sizes with denim, dresses, and leisurewear sold between $35 to $250. The tennis player said at the time that fashion is her second love, and when she was 18, she had to slow down on tennis, to go to a fashion school to chase her dream.
In an interesting coincidence, a year earlier, Sasha was about the same age Serena was when she chased the vision that brought them together in 2019.
In May 2017, Sasha was attending her prom and getting dressed up by her famous mother. Now two years after, and the California-born daughter of the "Hannah Montana: The Movie" star is working with the tennis player/fashion designer.
At 13, the young fashion enthusiast wrote, and directed the short film, "Superdate." Way before that, the young actress made her film debut in 2000, starring alongside her mother in, "A Diva's Christmas Carol." She was a baby at the time.
After Vanessa and Rick divorced in 2004, Sasha lived with both of them at different times, and didn't have any notable role until 2012 in "Justice for All with Judge Cristiana Perez."
These days, apart from working with Serena, Sasha is focused on finishing her studies, and it remains unknown if she would return to television or the big screen.
Please fill in your e-mail so we can share with you our top stories!