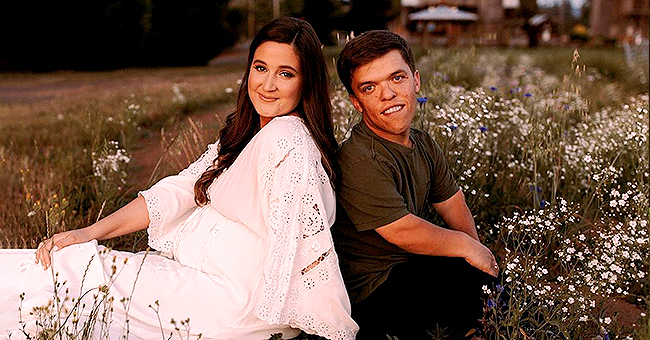 Instagram/toriroloff
Tori Roloff Misses Zach's Support While He Is in Colombia
Pregnant Tori Roloff is having a hard time without her husband Zach, as she recently revealed in a heartfelt Instagram post. The "Little People, Big World" is currently in Colombia, doing some "really cool soccer stuff."
Tori Roloff can't handle being away from her husband, as she recently revealed in an Instagram post asking him to come home.
MISSING DAD
The 28-year-old shared a new pic from her maternity photo shoot, which shows her and Zach sitting back to back on a flower field, and added in her caption:
"This last weekend has made me so thankful for this man. He's been in Colombia working on some really cool soccer stuff! I'm so proud of him and what he does within the dwarf community (here and overseas). We sure have missed him though."
Roloff continued: "You never know until you have to do it alone- and being pregnant and hanging with a toddler alone for three days is no easy task!"
Tori encouraged her followers to thank their partners whenever they can because they're blessed, and also commended single moms or dads adding "YOU ARE A SUPERHUMAN!"
"We love you Dada! Now come home! #storyofzachandtori" Roloff finished her post.
FANS' REACTIONS
Fans of the lovely couple filled Roloff's comment section with sympathetic thoughts, as they encouraged her to hang in there while Zach returns.
"Definitely makes you appreciate all they do! So cool he's in Colombia though! That's where my husband is from. It's such a beautiful country!" wrote one user.
Another added, "It is so hard realizing that you really don't do everything by yourself when you have to we are 2 weeks into a year-long deployment, and I am missing my husband!!"
And a third one said,
"That is such a beautiful picture of both of you! I love how down to earth you guys are. Well said! Tori, you are an inspiration for all women! Hang in there!"
ZACH'S LOVE FOR SOCCER
Zach, a passionate soccer player, and a trainer was visiting Colombia as part of his work with the Dwarf Athletic Association of America.
There, he got to meet some little people from Central and South America and got to experience the Colombia culture.
The soon-to-be father of two is now back home and shared a photo of his son Jackson donning a t-shirt of the Colombian national selection, adding in his caption:
"I had a fantastic time in Colombia at LPC this past weekend, but I sure did miss this kid!"
Talking to Lock Laces in 2017, Zach opened about his love for soccer, explaining that the sport has shaped who he is in a lot of ways.
"Everything comes back to soccer. It taught me a lot about teamwork and sacrifice," he said. "A lot of my life philosophies can be traced back to soccer. When things aren't working out in life, I say it's because we're not operating as a successful soccer team in the moment."
Zach and Tori are gearing up to welcome their second child, a baby girl, this fall.
Please fill in your e-mail so we can share with you our top stories!