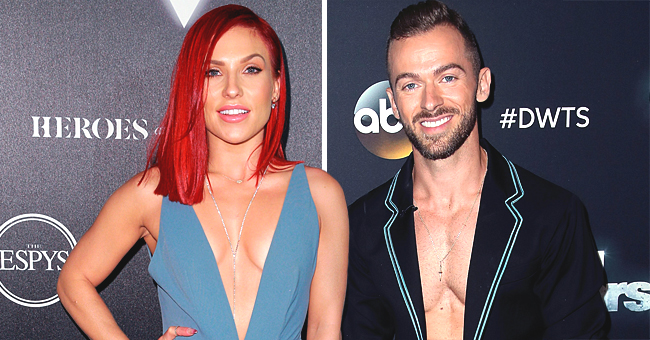 Getty images
Fans Unhappy Sharna Burgess and Artem Chigvintsev Won't Be in the New Season of DWTS
On Wednesday, "Dancing With The Stars" professional dancers Artem Chigvintsev and Sharna Burgess took to social media to bid their fans farewell after having had their last season on the show.
It was revealed that Artem Chigvintsev and Sharna Burgess wouldn't be returning. They both confirmed the news with lengthy messages on Instagram.
Burgess not returning was the biggest shock for fans because she'd won the Mirrorball trophy with TV personality Bobby Bones last season. She's been on the show for nearly 9 years and Chigvintsev took part for 10.
"No Artem? No Sharna? No watch."
It appears the decision wasn't made by the two stars. After the announcement of the cast, the show's host Tom Bergeron revealed that Burgess appeared "surprised" by the news that she wouldn't be returning.
He said: "As a matter of fact, I was just texting with Sharna recently," adding "She was surprised and I was too. But again, that's somebody else's call." Fans have since taken to social media to voice their disappointment and displeasure.
Someone named Max Powers took to Twitter writing: "#DWTS No Artem? No Sharna? No Hayley? No troupe? Sean Spicer? No watch.....smh...." Logan LaRese added: "@DancingABC I want to be excited about this season but I can't because I am so sad and disappointed that Artem is not part of the cast … #dwts #DWTS28."
Another Twitter fan named Jillian Waldhart lamented:
"Nervous to tell Cecelia there's no @SharnaBurgess this season … she's been waiting all year for @DancingABC just for her! We know you're off doing big things though, Sharna! Happy for you! We adore you big time!"
A fan named Libby also complained: "No Artem, No Britt, No Hayley, and No Sharna.....it was good knowing you DWTS." Another shocked fan added: "They fired Artem from DWTS???????"
A source explained that it was common practice for professional dancers to take a season off and then come back for another one. The insider shared that Chigvintsev and Burgess remain a part of the DWTS family.
Chigvintsev was well-known for choreographing some of the most interesting dance pieces. For season 25, any dance he put together for his now-girlfriend, Nikki Bella, had fans and judges in awe.
After the professional dancer wrote his farewell message, Bella responded in the comments section with some support. She wrote: "I'm so sorry my A. I know big things will happen for you. Their loss, I promise."
"Dancing With the Stars" season 28 will premiere on September 16 at 8 p.m. on ABC.
Please fill in your e-mail so we can share with you our top stories!