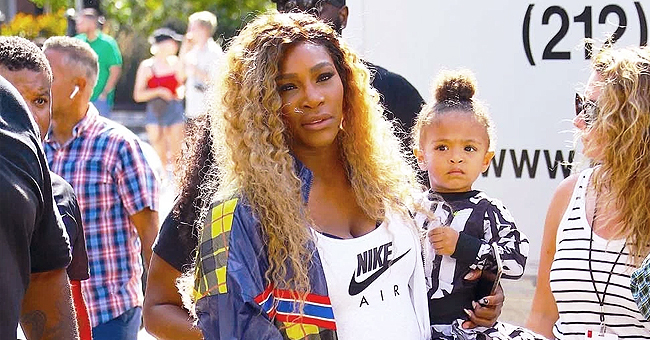 Twitter/HollywoodLife
Serena Williams Holds Her Daughter Olympia as They Attend Nike's 'Queens of the Future' Event
Serena Williams wowed the fans at Nike's Queens of the Future event with her mini-me, Olympia.
Serena Williams took her 2-year-old daughter Olympia to Nike's Queens of the Future event to meet today's rising stars.
Serena, who is the most decorated active tennis player of all time, is an idol to the young women who are now making their mark
QUEENS OF THE FUTURE
Nike held the event in Soho which brought together some of tennis' top talent including Serena Williams, Maria Sharapova, Naomi Osaka, Sloane Stephens, Madison Keys, Petra Kvitova, and Simona Halep.
The event is meant not only to showcase today's talent but to encourage little girls everywhere to dream of becoming tennis champions.
Maybe in a few years time, we will see another Williams girl step out on to the tennis court
SERENA WILLIAMS STUNNING IN SAPPHIRE BLUE
Serena, always fashion-conscious, wore Nike. The champion wore sapphire blue activewear consisting of tight blue biker shorts and a clinging white Nike Air shirt.
She brightened up the look with a windbreaker with yellow plaid inserts, and colorful sneakers.
OLYMPIA ROCKS NIKE OUTFIT TOO
Just like mom, and practically all the tennis stars at the event, Olympia wore a Nike outfit.
The two-year-old rocked a boldly patterned black and white outfit, with matching white sneakers and had her hair up in a cute bun.
FRIENDLY RIVALS ON THE TENNIS COURT
The Queens of the Future is a friendly event, but the ladies know that they will soon be facing each other in the US Open which goes on until September 8, and that is where true mastery will be tested.
Will Serena be able to maintain her dominion of the courts and add yet another title to her roll? Let the games begin.
Maybe in a few years time, we will see another Williams girl step out on to the tennis court. Is Olympia one of the Queens of the Future we are hoping for?
OLYMPIA IS A WILD CHILD, SAYS SERENA
Serena Williams defines her two-year-old daughter as a wild child, and she loves it.
Unlike most parents the tennis legend thinks this is a positive quality, equating "wild" with boundless energy, curiosity, and willingness to learn.
"I think [wild] is great, I think it's exciting. I love the use of that word, because it's active, it's learning.(...)wild is actually a good thing. It means curious, spirited, growing." Serena said.
Olympia clearly takes after her mom! The little dynamo is Serena's daughter with Reddit co-founder Alexis Ohanian.
Please fill in your e-mail so we can share with you our top stories!