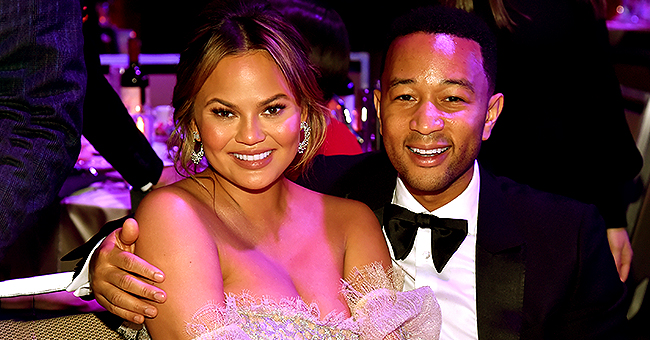 Getty Images
Chrissy Teigen and John Legend Enjoy Pork Rinds on a Family Trip to Thailand
Chrissy Teigen Introduced her husband John Legend and two children to some exciting new things on their recent travel to her motherland.
As usual, Chrissy documented the whole experience and shared it on social media. In a recent Twitter post, the mother of two can be seen holding a plastic bag with pork rinds inside.
"Pork rinds in the motherland. Mission 1 completed." She captioned the short clip.
Some of her Twitter followers took to the comment section to profess their undying love for pork. One person wrote,
"One of my favourite Thai snacks, Eat with sticky rice it's a meal."
Another follower wrote, "I was totally dreaming of my step mother's pork rinds today, this makes me want them even more." while a third commenter exclaimed,
"Those are the most perfect pork rinds I've ever seen."
Some followers were in the comment section unbothered about the pork and only to shower praises and love on Chrissy instead. "I love you, please adopt me," a fan tweeted.
Not too long after, the Utah native came across "her favourite thing on the planet;" meat and veggie kebabs. Teigen mentioned this in one of her Instagram stories as her mom described the different kinds of kebabs in the background. "I've been eating [them] since I was a little baby."
John was also adventurous as he ate all sorts of meals he had never tried before. The "All of Me" crooner ate a silkworm, and according to his wife's reaction, she was very surprised. "John, adventurous!" Teigen exclaimed on Instagram as the musician threw a worm in his mouth.
That was not the end of the road for John as he also ate his first cricket, which he seemed to enjoy compared to the silkworm.
The couple also made an appearance at a friend's wedding ceremony in Utah. Shortly after dressing up for the wedding, Chrissy suffered a swollen lip probably, a side effect from altitude sickness.
Very upset and saddened she stated on Twitter that her own birth state, Utah, has chosen to poison her with terrible altitude sickness.
"Did u know angioedema can be triggered from altitude sickness? Learn something new every day! my lip about to explode. goodbye world," the funny and adorable mother of two said.
She then shared a video of her inhaling some oxygen to help with the swelling which went down just in time for the wedding.
This is not the family's first time in Thailand. John Legend performed in Bangkok in 2018 as part of his Darkness and Light tour.
The Legends are always a breath of fresh air!
Please fill in your e-mail so we can share with you our top stories!