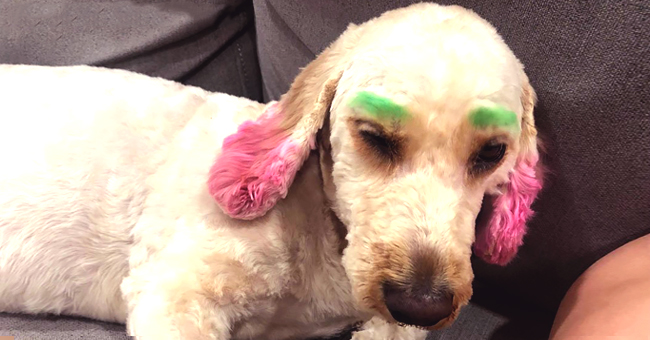 twitter.com/CBSMiami
Woman 'Almost Cried' When Her Dog Was Dyed without Her Permission and Got an Infection
A Florida woman was devastated after her dog's maintenance appointment with the groomer went horribly wrong. The Goldendoodle had green eyebrows, floppy pink ears, and a possible infection when she went to fetch him.
Grazielle Puleo, a Lake Worth resident, wanted to send her dog to a pet salon for some regular maintenance. She dropped her Goldendoodle off at Amore's Pet Salon Dog Grooming Dar Car Boarding Spa for a simple grooming session.
Little did she know that she was in for a horrible surprise when she went back to the spa to fetch her dog nine hours later.
"I almost cried."
A HORRIBLE SURPRISE
Puleo expected to find her beloved dog with neat fur, trimmed nails, and clean teeth, but the groomer had something else in mind.
She was shocked to find her dog Lola with a completely different look. Speaking to The Palm Beach Post, Puelo shared the horrors of seeing her dog for the first time after she dropped her dog off at the salon.
"I noticed they'd shaved her eyebrows off and tried to fix the mistake by drawing green eyebrows on her," Puleo said. "She looks like you painted on her and were trying to turn her into a clown."
According to Puelo, she almost cried when she saw her dog in such a state.
THE POOR DOG EVEN GOT AN INFECTION
Not only did the groomer give an awful makeover to the dog, but the dog also got an infection in the spa.
According to Puelo, the dog's underside was pink due to an infection, and she had to take it to a veterinarian for treatment.
Moreover, she found injuries in Lola's "privates." According to her, the poor dog's ears were bleeding.
PUELO FELT MORE EMBARRASSED THAN HER DOG
After the shocking incident, Puelo felt guilty about sending her dog to the spa.
When she took Lola for a walk outside, a group of young girls laughed at the pooch.
"I felt more embarrassed than my dog feels,'' Puelo shared.
When she confronted the salon's owner, Raque Adams, she refunded her $150 and also offered to provide complementary services.
"When I asked why she dyed her hair, her response was she felt the dog was missing something. She offered to take it off for me but I just wanted to take my dog home," Puelo said.
According to Adams, they just wanted to "make her smile." This incident came as a reminder for Puelo and all the other dog owners that they should do "extra research" before taking their dogs to groomers.
Any dog lover would be devastated to find their furry companion in such a state. Luckily, a Georgia resident, Giorgi Bereziani, found his dog three years after it was lost, and it was in a normal state.
Please fill in your e-mail so we can share with you our top stories!