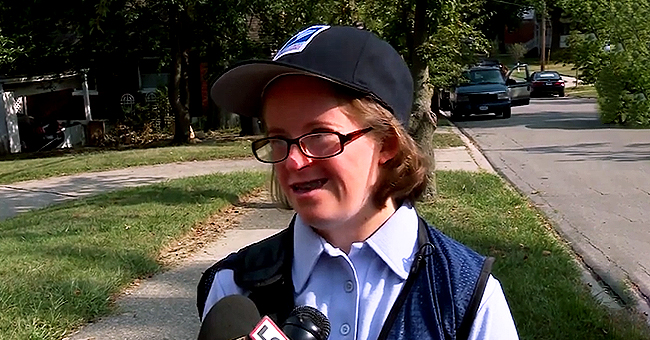 youtube.com/WFLA News Channel8
Grace Flannery with Down Syndrome Fulfills Her Wish of Being a Mail Carrier for a Day
Grace Flannery from Cincinnati, Ohio, fulfilled her dream job for a day as she delivered mail, and a bunch of smiles, for the local post office to a nearby neighborhood.
Down syndrome didn't stop 21-year-old Grace Flannery from living her lifelong dream to become a postal worker. On Tuesday, she came to work for the Westwood Post Office and deliver mail alongside letter carrier, Melissa Tilton.
LIVING HER DREAM
Since her younger years, Flannery had a special admiration for postal workers who she watched carry out an important task from day to day. Unfortunately, her disability hindered her from pursuing the career she had eyed for years.
"I'm good at finding addresses and different roads," Flannery said of herself. "I'm gonna say my name, and I'll shake their hands, and I'll look them directly in the eye," she added.
FIT FOR THE JOB
Tilson, who was assisted by the 21-year-old on her shift, shared her excitement overhearing someone who wanted to do a job she so loved. They first sorted mail, before loading it into the vehicle and delivering it to the assigned neighborhood.
Many of those diagnosed with down syndrome see life simply and seem to notice the smaller things.
"Grace's attention to detail was spot on -- she did a great job matching the addresses on the letters to the correct homes. We need more carriers with her focus," Tilson told Yahoo.
Before Tuesday, Flannery worked a paper route at her school and delivered packages to different departments at a Children's Hospital. Now, she seeks to have a permanent placement at USPS, whether it be out in the field or in the mailroom.
DOWN SYNDROME IS NOT A TRAGEDY
While frown upon those who are diagnosed with down syndrome, the condition is not a tragedy and not something that makes you entirely incapable of carrying out normal activities.
Many of those diagnosed with down syndrome see life simply and seem to notice the smaller things.
Singer-songwriter, Jamie Foxx, has a sister with the said condition, which has since made him have a new appreciation for life and how he responds to every little thing.
"I learned how to live. Sometimes we get caught up in our world on the extras of everything — 'Ah, the Mercedes is not the right color!' " he said. "And then you see this girl over here, 'I just want to live. I want to dance. I want to love.' So she brings you back down to what life is."
Like Foxx, his younger sister shares a passion for singing and dancing. The siblings grew close to each other and maintained a close relationship, with both teaching each other valuable life lessons.
Please fill in your e-mail so we can share with you our top stories!