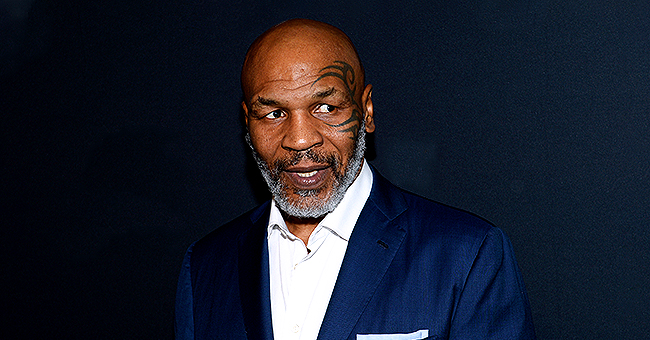 Getty Images
Mike Tyson, 53, Looks Unrecognizable at 19th Annual Citi Taste of Tennis in New York

The world of boxing in the 80s and 90s was ruled by Mike Tyson, who was known for his brutal knockouts which made him feared by opponents.
There is no such fear now, but only cheers, as a largely unrecognizable Mike Tyson attended a red carpet event in New York.
Mike Tyson' holds the record of being the youngest boxer to hold a world heavyweight boxing title at the age of 20. The fighter had a trait of knocking out his opponents in the early rounds of fights and became revered in the boxing world.
The former champion made a rare appearance in public when he attended the Citi Taste of Tennis event in New York, wearing a suit, with his legendary facial tattoo in full view.
MIKE TYSON'S RED CARPET LOOK
The Citi Taste of Tennis is an annual event that serves as a lead-in to the US Open, a Grand Slam Tennis Championship. The event features many celebrities and some of the most amazing cuisines made by New York's leading chefs.
Mike Tyson is one of such stars to grace the event this year, and he did so wearing a blue two-piece suit. His appearance, serene at best, was a far contrast to his fiery looks during his boxing days.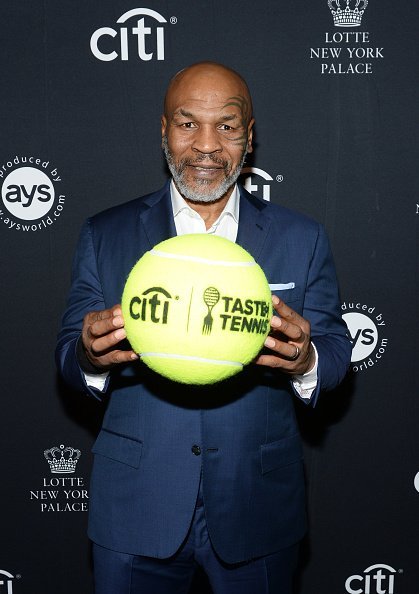 Mike Tyson attends the Citi Taste Of Tennis | Image: Getty Images
He completed his outfit with a white dress shirt and dark shoes. His signature facial tattoos were visible, while his trimmed white beard added more swagger to his look.
MIKE TYSON'S WIFE AND DAUGHTER JOIN HIM ON THE RED CARPET
While the former boxing legend had time to showcase iconic boxing fist to the camera, he was soon joined by his wife and daughter, Kiki and Milan respectively.
The ladies looked delightful in their multi-coloured dresses as they shared the spotlight with him. Mike Tyson also shares a son, eight-year-old Morocco with Kiki. Milan and Morocco are among seven children fathered by the former boxer with different women.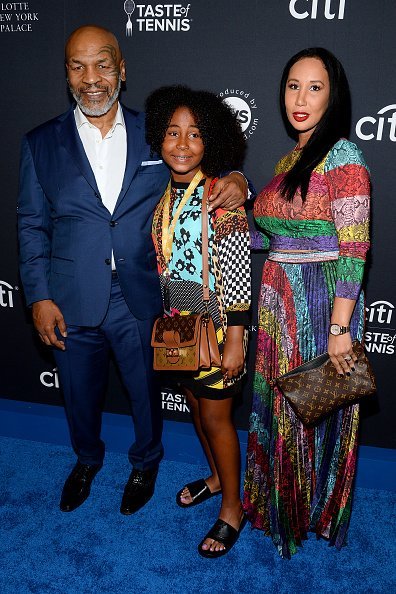 Mike Tyson, Milan Tyson and Kiki Tyson attend the Citi Taste Of Tennis | Image: Getty Images
MIKE TYSON: A CONTROVERSIAL WARRIOR
Mike Tyson rose from a difficult childhood, which included him getting arrested 31 times at the age of thirteen. While in prison during his youth, Muhammad Ali, one of the greatest boxers of all time, visited him and guided him into pursuing a career in boxing.
He was soon adopted by his coach and trainer, Constantine "Cus" D'Amato after the death of his mother. After his explosive professional debut, he was given the nickname, "Iron Mike" for his repertoire of skills.
He was so dedicated to his boxing dreams that he remained celibate for five years, as he believed sex would make him a weak boxer.
Tyson controversially bit the ear of another great boxer, Evander Holyfield in a fight, leading to his disqualification. He faced more controversies, including a rape charge, which led him to spend three years in prison. He hit the lowest ebb, falling into bankruptcy at one point.
After his infamous last fight against Kevin McBride, which he lost, he retired but made a comeback to the sport by starting a production company to promote aspiring boxers and feature championship fights.
He remains a legend of the sport today and has several awards to that acclaim.
Please fill in your e-mail so we can share with you our top stories!