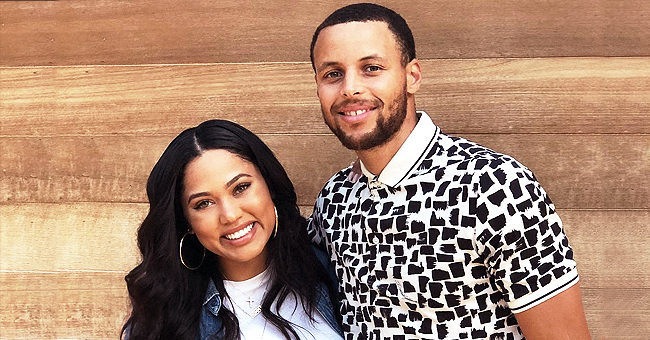 Instagram/ayeshacurry
Watch Steph & Ayesha Curry's 1-Year-Old Son's Message for All of His Family's Haters
Ayesha Curry left the internet in awe after she shared a short video clip of her little son, Canon, adorably giving haters a response.
Via Instagram, Ayesha shared a short clip of Canon playing outdoors. The background of the video shows that it may have been taken while the family was out on a picnic.
It features the youngster wearing a black baby tee while sitting atop a cloth laid on the lush grass.
LITTLE CANON BIDS HATERS BYE
Ayesha is apparently the one behind the camera as Canon peeked curiously at her. The clip only features the author and celebrity cook finishing the word "hater" so viewers don't get to hear what she had asked little Canon.
That, however, doesn't diminish the pure glee that comes with watching Canon give his response by answering, "byeee."
His voice sweetly took on a sing-songy tune and his bright smile is just so adorable as he displayed his small milky white set of teeth.
The clip, which also features a light conversation from people, probably Canon's big sisters, came to an end as Ayesha giggled in response. The mother of three couldn't hide her joy as she captioned the clip with a short funny message.
"I asked Canon what you say to all the haters. He get it from his daddy. I love my boyssss!!!!," she wrote.
Canon is the third and youngest child born to Ayesha and her widely-acclaimed sports star husband, Steph Curry. The pair also have two beautiful daughters, Riley, born in 2012, and Ryan, born in 2015.
The Curry family are one of Hollywood's most favorite family, and this is not only because of their successful careers but because of their media presence.
"HOW CAN ANYONE HATE ON THIS FAMILY," SAYS A FAN
Both Ayesha and Steph have a massive fan following on social media platforms, but their most popular seems to be Instagram. That is why it is not too surprising to find that Ayesha's video of Canon has garnered well over a million views just within two days!
In a fevered manner, netizens took to the comments section to air praise for the little boy and to also express love for the Curry family.
"How can anyone hate on this family?! Y'all are so cute all. da. tiiiiimmeee," an Instagram user, @haayitsjenn wrote.
"Hissss soooo adorable i want to kiss him (: @ayeshacurry."
That and many others litter Ayesha's Instagram showing how popular the Currys are. There is, however, no doubt that more than anyone else, it is Canon's proud papa bear Steph that would love this post the most.
Please fill in your e-mail so we can share with you our top stories!