Seven Injured after Shooting at Toddler's Birthday Party in Maryland
Gun violence is currently one of the biggest issues in the United States and, unfortunately, it made headlines once again after a shooting in Maryland.
On Saturday night, at least seven people were wounded after a shooter opened fire at a group of people that had gathered at a toddler's birthday party.
According to the police, the incident took place at the  6200 block of Maxwell Dr., near the Camp Springs and Morningside areas of Prince George's County.
Preliminary: Officers responded to the 6200 block of Maxwell Dr. in Camp Springs for a reported shooting at approximately 9:00 pm. Once on scene officers found 7 people shot and began lifesaving techniques. 3 people are listed as critical while 4 are stable.

— PGPDNEWS (@PGPDNews) August 25, 2019
THE VICTIMS WERE ALL YOUNG ADULTS
The identity of the shooter, who remains at large, is yet a mystery but the proper authorities are investigating the case and hope to catch the criminal as soon as possible.
Prince George's County Police Chief Henry Stawinski was one of the many officers at the scene and shared that the victims are all between the ages of 18 and 20.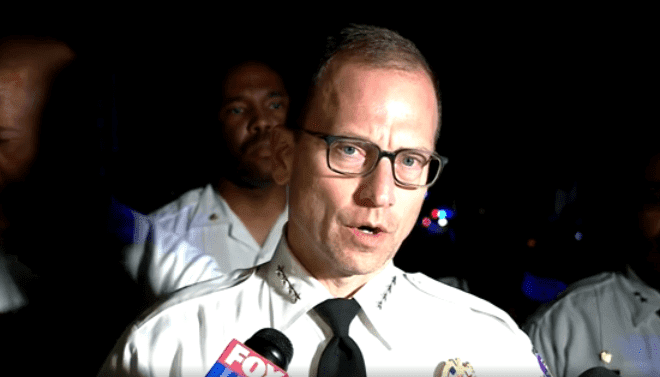 A FIGHT LED TO THE SHOOTING
Police Chief Stawisnki confirmed that 12 people were at the party and that out of the seven victims, four suffered minor injuries and three suffered serious injuries. 
It is believed that everyone is expected to survive and, fortunately, the two-year-old was not among the victims. According to the police, a fight broke out before the bullets started flying.
As aforementioned, investigators are trying to understand what exactly happened that night and those with any information regarding the case are encouraged to contact the local authorities.
The victims are all between the ages of 18 and 20
Detectives are on scene working to establish suspect(s) and motive in this case. If anyone has any information or observed anything suspicious on Maxwell Dr., please call @PGCrimeSolvers 1-866-411-TIPS. pic.twitter.com/DDFntVihDc

— PGPDNEWS (@PGPDNews) August 25, 2019
SHOOTING AT A BABY SHOWER
This was yet another example of gun violence, one among many that happen every day across America. Earlier this year, in April, another shooting took place at a baby shower in Chicago.
A family from South Seeley, in the Englewood neighborhood, was celebrating the upcoming birth of a child when two men walked up to the baby shower and opened fire over the party-goers.
The shooters then fled on foot, leaving behind at least 6 victims, including an eight-year-old boy, who was hit in the back and chest, and a ten-year-old girl, who was shot on her chin.