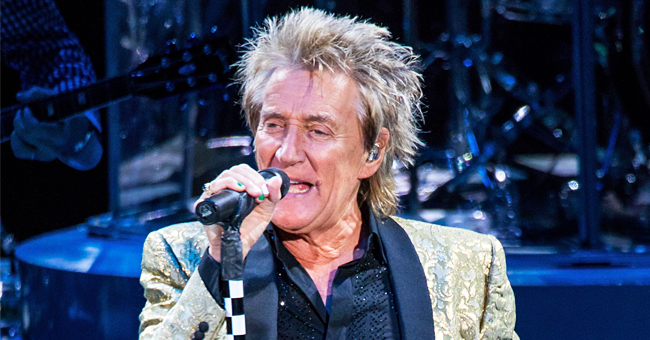 Getty Images
Rod Stewart Reunites with His 3 Ex-Wives for Daughter's 40th Birthday

Iconic British rock star, Rod Stewart celebrated with his daughter, as she turned 40. He was not alone, as three of his ex-wives, and an ex-girlfriend attended the event!
An Instagram upload from Rod's first ex-wife, Alana Stewart proved that the family still connect. Although Rod is the nucleus of this puzzle, as he was once married to two of the women in the post.
After his marriage crashed with beauty queen and actress, Alana with which he had Kimberly, he got married to Rachel Hunter.
His current wife, Penny also featured in the post. It was all smiles from the women who had at one time or the other exchanged marital vows with the legendary musician.
A fourth lady, Kelly Emberg, a former model, who was Rod's mistress in the 60s, was equally present at the celebration. She was thrilled as she posted on her social media handle what she thought of her stepdaughter and the hangout!
Wife number one scripted the details of the meeting under her post. She stopped at nothing to tell her followers how it felt seeing everyone.
The celebrant's mom also thanked the couple, her ex-husband, Rod, and his wife, Penny, for their attendance. Her post read:
"Wrapping up the birthday week…Thanks to @sirrodstewart and @penny.lancaster for the round of b'day festivities including all the exes! It was great to catch up with everyone.@rachelhunterx @kellyemberg."
The 74-year-old rock star seems to have a thing for models; all the women in his life which he was romantically linked with were models.
He is doing well as an excellent father, and it is not just his attendance to this event that proves this.
He lost contact with his daughter from an estranged girlfriend who gave the baby up for adoption, but the artiste later revamped his relationship with his child.
The British singer has eight kids from five women, but this birthday picture shows that he is still in good terms with four of them. It appears his popularity as a talented musician earned him likes from females fans, and he didn't see settling down with a woman as a restriction.
The iconic star's songs include: "Some Guys have all the luck," "Hot Legs," Do Ya Think I'm Sexy?" Rod airs his views on prevalent issues with his songs, sometimes he even tells a story or shares his experiences.
"The Killing of Georgie" was a song advocating for gay rights, while "Maggie May" explained how he lost his virginity.
Apart from releasing famous hit songs, the father of eight has had his fair share of tragedy. In 2000, he was diagnosed with throat cancer and was devastated about his inability to sing.
Fortunately, he recovered his singing abilities. The reunion shows that the only thing that matters to Rod is being there for his daughter, which is commendable.
Please fill in your e-mail so we can share with you our top stories!