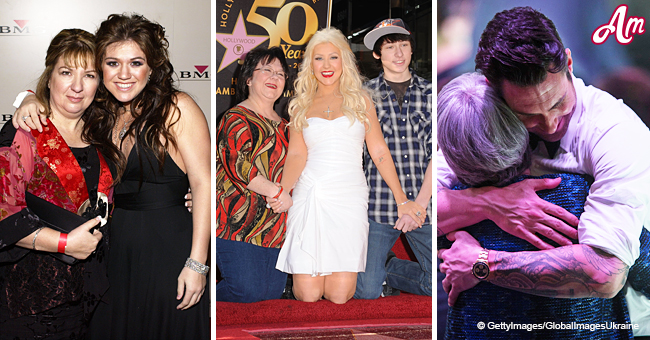 Facebook/NBCTheVoice
Meet All 'The Voice' Coaches' Beloved Mothers — from the Very First Season till Now

While fans of "The Voice" get a weekly glimpse of their favorite coaches on the show, they all had something to say about their mothers who helped them achieve career success.
GWEN STEFANI
"I was very spoiled compared with a lot of people. We weren't rich, but we definitely had whatever we wanted," Gwen Stefani told Vogue in 2008 about her upbringing.
Her mother Patti, of Scottish and Irish extraction, became a homemaker after she married her Italian high-school sweetheart, Dennis, who worked for Yamaha motorcycles in research and marketing. The second of three children, Patti gave birth to Gwen on October 3, 1969. Gwen has an older brother and a younger sister.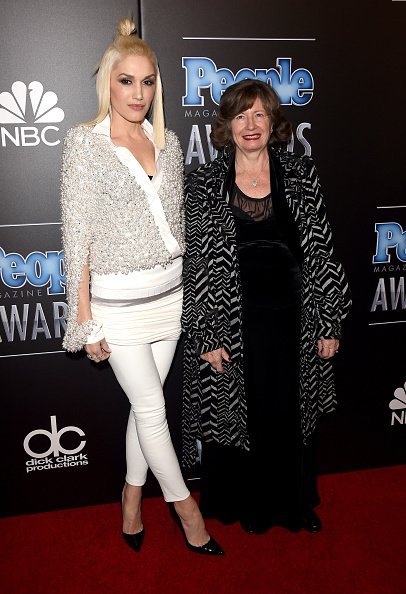 Singer Gwen Stefani and mother Patti Flynn attend the PEOPLE Magazine Awards at The Beverly Hilton Hotel on December 18, 2014, in Beverly Hills, California. | Source: Getty Images.
CHRISTINA AGUILERA
Born in Staten Island to musician Shelly Loraine Kearns of German, Dutch, Irish, and Welsh descent, and Ecuadorian United States Army soldier Fausto Xavier Aguilera, Christina spent the first six years of her life moving around due to her father's military career.
The singer later alleged that her father often became emotionally and physically abusive towards her mother and used music as a means of escape from the volatile household. During an interview with Cosmopolitan in 2018, Christina elaborated on how it affected her.
"My dad was very dominant with my mom, and I always knew I was never going to let a man take advantage of me like that. But ­making it in the business was a completely different [expletive]. I didn't even know to think about it like, 'Wow, this person's really disgusting, the way he talks about women.' I had no super-strong women around me, and I thought feeling inferior, small, or helpless just had to be accepted."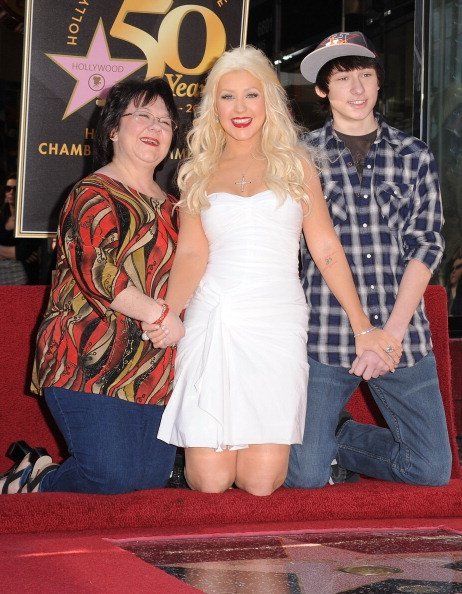 Singer Christina Aguilera, her mother Shelly Loraine Fidler and brother celebrate as she is honored on The Hollywood Walk Of Fame on November 25, 2010, in Hollywood, California. | Source: Getty Images.
CEELO GREEN
Professionally known as CeeLo Green, but born as Thomas DeCarlo Callaway on May 30, 1974, the singer's father passed after CeeLo turned two years old.
CeeLo's mother, Sheila J. Tyler-Callaway worked as a firefighter but got paralyzed in a car accident and died two years later after CeeLo turned eighteen.
His mother's death caused CeeLo to sink into a deep depression, but it also became a defining time for his career, as he wrote several songs about his mother including "Just a Thought," which featured on "St. Elsewhere," and "She Knows" along with "A Little Better" on "The Odd Couple."
"I have actually died, and my mother lives on. My work, my aspiration, my ability, even down to my articulation, is my mother's will, my mother's work, and my mother's want for me," CeeLo explained in 2012 during an interview with Pierce Morgan.
ADAM LEVINE
Pop singer Adam Levine is very close with his mother, Patsy Noah. Seven years old when his parents divorced, Patsy always supported Adam's interest in music, and she even joked in 2014 that she became a "roadie."
"Instead of being a soccer mom, I was a roadie. He started playing gigs when he was about 14, so he needed a ride," Patsy said.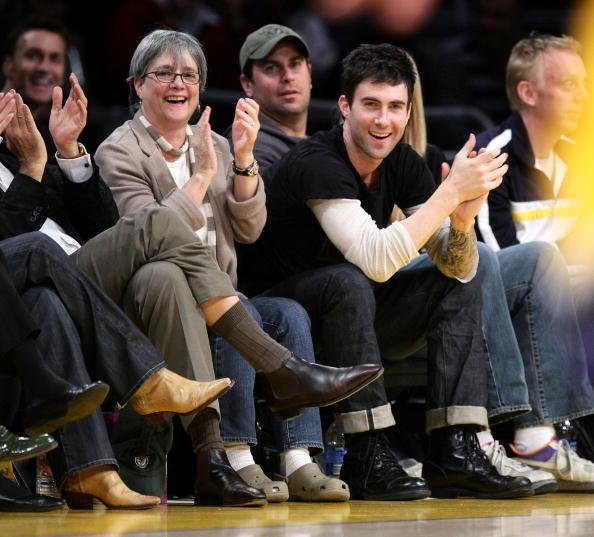 Adam Levine (R) and his mother Patsy Noah (L) attend the Los Angeles Lakers vs Oklahoma City Thunder game at the Staples Center on February 10, 2009, in Los Angeles, California. | Source: Getty Images.
Adam later credited his mother as the one who "started me out on the path of music" because of her love for The Beatles, while she is proud of the man he became. "He has a tremendous rapport with the audience, but it took him eight years to develop," Patsy told Rolling Stone. "At his first performances, he performed with his back to the audience."
Although Patsy is less fond of Adam's tattoos, the singer dedicated his flower tattoos to his mother along with a heart with the word "Mom" inscribed.
BLAKE SHELTON
Country singer Blake Shelton often uses his characteristic sense of humor when referring to his mother, Dorothy. During rehearsals for their Mother's Day show on "The Voice," Blake jokingly confessed, "She's actually the only singer in our family. And I mean the only person who can carry a tune."
While Dorothy used to enter Blake in beauty pageants as a child, the country singer added that her dream for him didn't include a singing career, "but for me to some way, somehow, be on the show with you."
SHAKIRA
Born to Columbian parents William Mebarak Chadid and Nidia del Carmen Ropili Torrado, Shakira's mother became a homemaker since her father made enough money as a jeweler and writer to support the family.
During an interview in 2013, Shakira referred to her father as her weakness and the best father she could have, while her mother encouraged her to become a painter as a child.
USHER
While Usher credited his mother, Jonetta Patton for helping steer his career in the right direction as his manager for many years, the two took a brief break from their business relationship in 2007. Jonetta joined up with his team again a year later after they reprioritized their relationship.
"We began to part our ways when I wanted to expand in other areas that I felt like she wasn't necessarily considerate of. You know, why create this tension when I'm attempting to grow as a man?" Usher told Oprah. "I think I've spent so many years focusing on being an artist and being recognized as this talent; it ain't about that no more. Now, it's about who I am as a man, and I need [my mother] to be as supportive of me as a man."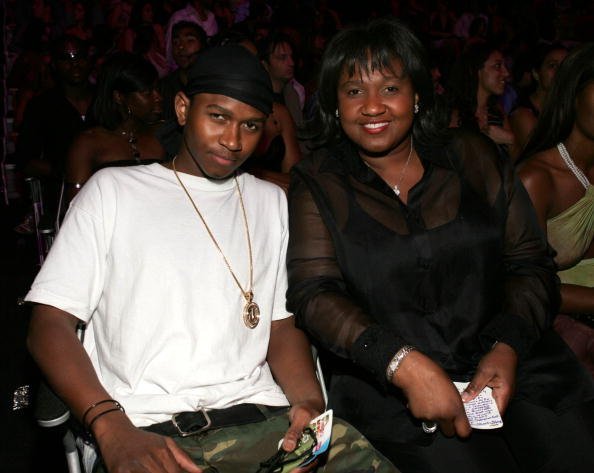 Jonnetta Patton (R) mother of Usher with her son pose for a photo at the 2004 MTV Video Music Awards at the American Airlines Arena August 29, 2004, in Miami, Florida. | Source: Getty Images.
PHARRELL WILLIAMS
As the son of Pharoah and Dr. Carolyn Williams, Pharrell got his creative talents and his bone structure from his mother.
While mother and son share a love for education and learning, Pharrell didn't share his mother's love for studying. After Carolyn graduated from high school, she earned four degrees. One degree came from Carolyn's studies at Tidewater Community College, another one she received at Regent University while she earned two more from Old Dominion University.
Currently a retired teacher from Virginia Beach, Carolyn has advice for other mothers. "Know your child," she said in 2014. "Then move with your heart. You know your child better than anyone. You've planted certain seeds, and all you can do is nurture them as they make their way."
But to Carolyn, the greatest reward as a mother is when children start living the lessons or advice given to them as children as she added, "At some point, you will begin to hear things that you have said to your children come from them. And from that aspect, it becomes very heartwarming, and you think, 'wow, they got it!'"
MILEY CYRUS
Miley Cyrus and her mother Tish share a close bond that not only comes through in Tish's work as her daughter's manager but also through Miley's music.
While the singer paid tribute to her mother with the song "Mother's Daughter," Tish, on the other hand, gushed to Refinery29 in May 2017 about the woman Miley became.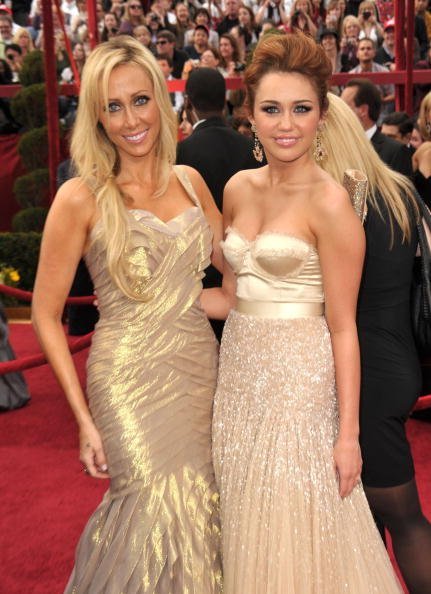 inger Miley Cyrus (R) and mother Tish Cyrus arrive at the 82nd Annual Academy Awards held at the Kodak Theatre on March 7, 2010, in Hollywood, California. | Source: Getty Images.
"Miley is who she is, and honestly I don't know where she got that, because I'm a little more sensitive," Tish said. "But somehow I did raise a strong, amazing person that's self-confident and really didn't care what people think."
ALICIA KEYS
When Alicia's mother, Terria Joseph joined her at the arts gala in New York in October 2015 to receive an award for being a "visionary," Alicia couldn't help but share the award with her mother.
Alicia's parents split up when she was two years old, and her mother raised her single-handedly while she always encouraged Alicia to follow her dreams.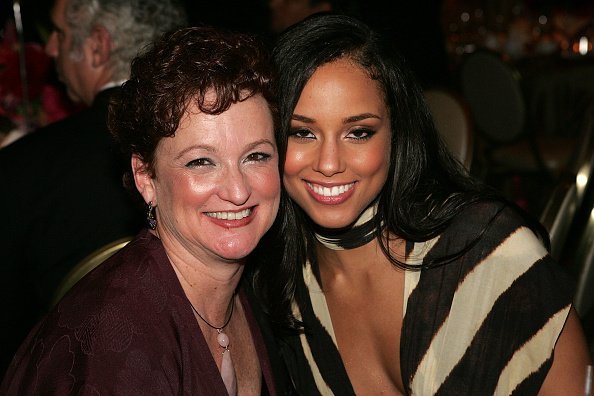 Musician Alicia Keys (R) and mother pose inside at the Clive Davis Annual Grammy Party at the Beverly Hills Hotel on February 12, 2005, in Beverly Hills, California. | Source: Getty Images.
Shortly after she received her award, Alicia took to social media to honor her mother for all the sacrifices she made over the years. "Thank you for all the nights you worked overtime to make the ends and beginnings meet," she wrote. "Thank you for teaching me about womanhood and everything in between. All I can say is thank you, and it will never, ever be enough!"
JENNIFER HUDSON
In November 2016, Jennifer paid tribute to her late mother, Darnell Donerson, who died in October 2008. The two share a striking resemblance, as seen in Jennifer's post to her mother on what would have been her 66th birthday.
"Today would have been my late mothers 66th B-Day! In her words, 'If you think you've seen it all, just keep on living,'" Jennifer captioned a compilation image featuring herself and her mother.
KELLY CLARKSON
Born in Fort Worth, Texas, Kelly grew up with her mother, Jeanne Ann after her parents divorced after she turned six years old.
Being a single mom, Jeanne Ann made a lot of sacrifices while Kelly grew up, which she later realized only benefited her later in life. "I love that I grew up always having to work for everything. I think I appreciate things and I see things, my vantage point is a little different than most," Kelly told ET during an interview in 2017.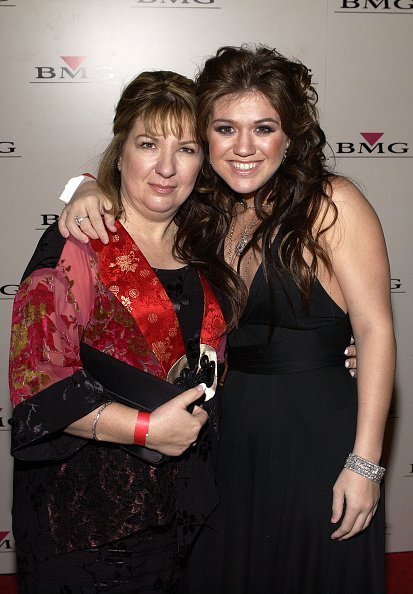 Kelly Clarkson and her mom Jeannie attend the BMG Post-Grammy Party following the 46th Annual Grammy Awards at the Avalon on February 8, 2004, in Hollywood, California. | Source: Getty Images.
KELSEA BALLERINI
Two time Grammy nominee, first in 2016 as Best New Artist, and again in 2017, Kelsea knows she wouldn't have earned her music success without her mother, Carla.
Carla moved to Nashville with Kelsea after she turned 15, so she can pursue a career in music, and remained supportive ever since.
Today I got to call her and tell her about my 2nd Grammy nom for an album that she watched me live. Her face says it all. I love you, mom," Kelsea wrote on social media.
JOHN LEGEND
As the son of Ronald Stephens Sr. and singer Phyllis Stephens, John Legend told InStyle in 2017 that his mother did what she could to raise balanced and successful children.
"My parents homeschooled us, and they literally had books called character sketches that were about what it means to be hardworking, determined, loving, patient, and how to succeed in the right way," John said.
BEBE REXHA
Ahead of her performance at the Isle of MTV festival in Malta in 2019, Bebe shared that her mother doesn't approve of her new song "Mama."
While the singer focuses her attention on being raw and truthful through her new music, her mother is not impressed by her deep-diving into the darker subject matter.
"My mom hates the song. My mom absolutely hates the song. She's like 'I love all the melodies, but the lyrics, I don't like them.' There's even a line in the song that says my parents are going to hate this song," Bebe said. "I think as long as you're honest with yourself, there's nothing else to lose because at least you're real with yourself."
In 2019, "The Voice" received an Emmy Award nomination as an Oustanding Reality-Competition Program. Despite the good news and positive reactions from many fans, others candidly disapproved of recent decisions made on the reality show.
Please fill in your e-mail so we can share with you our top stories!