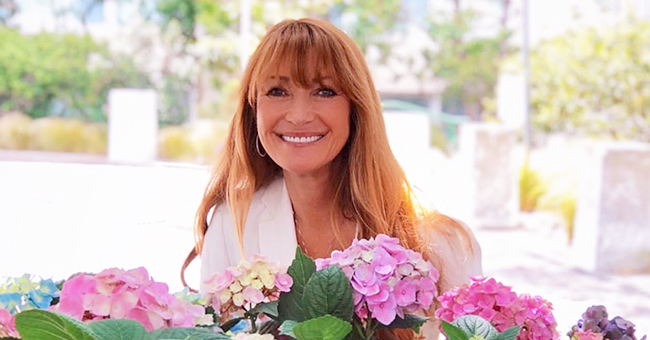 instagram.com/janeseymour
'Dr. Quinn's Jane Seymour & Her Look-Alike Granddaughter Pose in Matching Outfits in New Photo
68-year-old actress, Jane Seymour went golfing with her look-alike granddaughter, Willa, and the pair looked chic in their matching outfits. Willa showcased her golfing skills with a great swing shot, much to her grandma's delight.
Jane Seymour took time off to have a lovely day out with her look-alike granddaughter, Willa. The beautiful actress, very much known for her roles in many hit movies, including the 1973 James Bond Movie, "Live and Let Die," shared moments from their outing, which featured golf lessons for Willa, with her followers on Instagram.
JANE SEYMOUR'S POST
The star of the hit television series, "Dr. Quinn, Medicine Woman," posted a picture and short video clip featuring her and Willa.
The photo showed a smiling Jane wearing a sky blue long-sleeved top, with a black skirt, while Willa, also smiling wore a sleeveless sky blue top and black shorts.
Grandma and Granddaughter both held golf clubs as they posed for the shot. The video showed Willa make an excellent swing shot, much to Jane's amazement, and later Willa, much impressed with her practice, asked her grandma if they could do it again.
In her caption to the post, the actress warned her followers to watch out, as there was now a new golfer in the family, before adding that it was Willa's first golf lesson.
Jane's followers admired her and Willa's cuteness and twinning act and showed it with their comments. Many of those who commented pointed out that Willa is definitely Jane's granddaughter due to their resemblance.
JANE SEYMOUR'S REUNION WITH JOE LANDO OF "DR.QUINN" FAME
For five great years, (1993-1998) television show fans were held spellbound with the hit television series of those years, "Dr. Quinn, Medicine Woman."
One theme of the show that intrigued its many fans was the sweet love story of Jane Seymour's and Joe Lando's characters in the series.
Many years after the series end, its fans were treated to a memorable sight following Jane and Joe's reunion for a photo.
The ex-onscreen couple met at a beach in Malibu, California, and took a cute picture together, which Jane shared with fans on her Instagram page. In her caption, she wrote:
"Summers with Sully *big smile emoji* *fire emoji*"
"Dr. Quinn, Medicine Woman" proved to be a hit series and was well adored by its many fans. The series told the story of Dr. Michaela Quinn (played by Jane Seymour), who journeyed through a life of privilege in Massachusetts to a post-Civil town of Colorado Springs to become the town's doctor.
There, she would battle intolerance, sexism, and prejudice, as well as helping the town to combat death and disease.
Please fill in your e-mail so we can share with you our top stories!