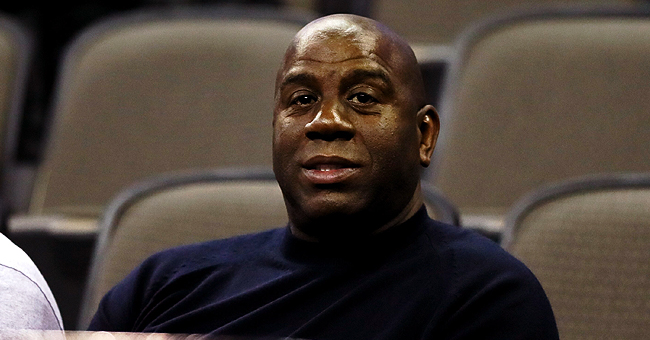 Getty Images
How Magic Johnson's HIV Diagnosis Led to His Early Retirement in the NBA
Twenty-eight years ago, Earvin Johnson, popularly known as Magic Johnson, announced that he had tested positive for HIV and shortly afterwards he retired from the NBA.
THE ANNOUNCEMENT
The announcement shook the sports world, and in 2004, the statement was tagged one of the most memorable moments for the past 25 years. Johnson was 32 when he reportedly received the news that he has the virus from a life insurance company.
The announcement was followed by a vow from Johnson to become a spokesperson for the prevention of AIDS. The promise was made at a Forum press conference where Johnson candidly stated that he did not have AIDS and that his wife also tested negative for HIV.
"I'm going to be a spokesman for the HIV. I want young people to realize they can practice safe sex. Sometimes you're a little naive about it, and you think something like that can never happen to you. It has happened, but I'm going to deal with it. My life will go on. Life is going to go on, and I'll be a happy man," he stated.
Johnson's statement was met with a lot of praises from health officials as well as activists who agreed with him and commended him for taking steps towards AIDS prevention.
AIDS is an advanced form of HIV. At the onset of HIV, the disease attacks the body's immune system, which aids the body in battling the infection. When AIDS sets in, it leads to the development of several forms of cancer and a wide range of infections, including severe pneumonia.
Johnson's announcement in 1991 led to his sudden retirement as he was advised to avoid playing basketball by his doctors, who stated that the lively sport might further "impair" his immune system.
HIS HISTORY AT THE NBA
Johnson's career began in 1979 when he led the Michigan State University to the national championship. After winning the tournament, Johnson was selected in an NBA draft by the Lakers.
He won an award for the NBA Finals Most Valuable Player in his rookie season, and also went ahead to win four more championships for the Lakers in the 1980s.
WHAT CAME AFTER HIS RETIREMENT
After his exit from the NBA, Johnson received a considerable endorsement estimated at $9 million and went on to promote concerts for his friends, the likes of Janet Jackson and Arsenio Hall.
Johnson also owns a one-third partnership in a Pepsi-cola distributing plant. The deal was reportedly secured by one of his influential friends, Michael Ovitz.
HOW HE WAS INFECTED
In an autobiography penned by Johnson, he revealed that he got the illness due to his numerous sexual pursuits while he was in the NBA.
"I know how I got the HIV virus. That's clear. But I don't know who gave it to me. I called a number of women. . . . Of the women I have talked to, nobody has tested positive-at least not yet. Thank God for that," Johnson said in an ABC interview.
HIS WIFE'S REACTION TO THE NEWS
Johnson's wife, Cookie, stated that when he broke the news to her, she was scared to death and admittedly fell to her knees.
"It scared me to death. I mean, I fell to my knees," she told Robin Roberts on the "Good Morning America" TV show.
According to her, Johnson gave her the option of leaving. However, she stubbornly refused, choosing instead to stick with him. The couple had just recently received news of Cookie's pregnancy when the news broke out, and she claimed she agonized over the unknown test results.
Fortunately, mother and child tested negative. Twenty-eight years later and Jackson and Cookie remain happily married, blessed with three children free from the virus and remarkable advances have been made in treating HIV.
Please fill in your e-mail so we can share with you our top stories!