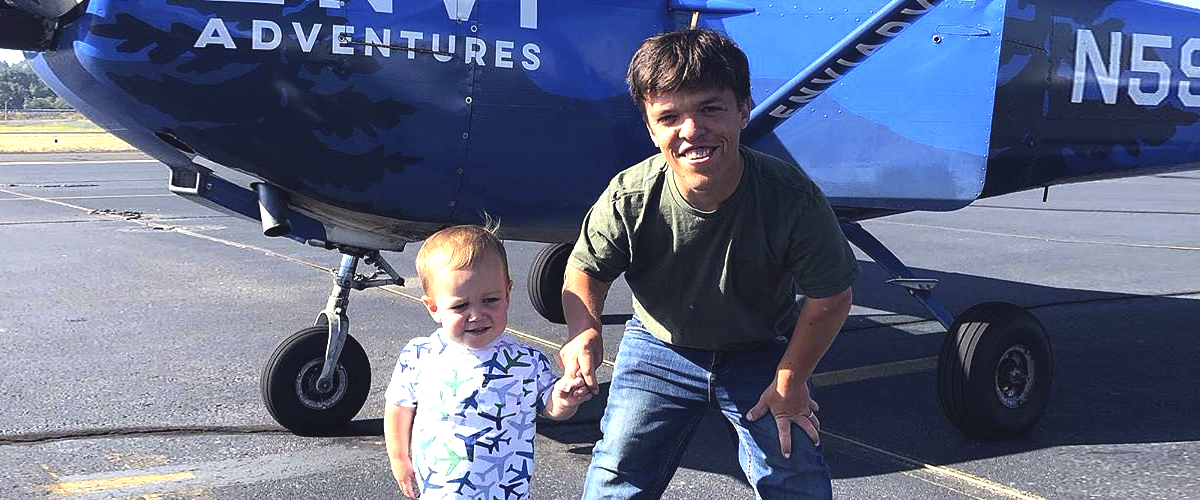 instagram.com/zroloff07
Why Matt Roloff Is Building an Airplane for His Grandson Jackson
Matt Roloff is giving his grandson the ultimate surprise by building him a custom-made airplane on Roloff Farms. Here's why.
Matt Roloff has something big in the works for little Jackson and we can't wait to see the look of surprise on his little face. The two-year-old is son to Tori and Zach Roloff, the latter is Matt's son.
Like his father and grandfather, baby Jackson suffers from a form of dwarfism which many of the cast of "Little People, Big World" also have. Regardless, Jackson has the innocence and attitude of every other toddler.
First plane ride
In fact, the young boy's temperament started out fairly calm. Since we're talking about airplanes, an example from his first plane ride is most appropriate.
At just three months, Jackson began enjoying plane rides with his adventurous parents. Yet during his flight from Portland, Oregon to Los Angeles, the then-newborn slept throughout.
Such an incredible achievement earned Jackson his first pair of wings at the end of the flight. Even though he slept the entire time, Jackson developed a love of planes likes many tots do in their early years.
Forgotten condition
Now two years old, he's still passionate about the winged machines that are able to cruise through the air tens of thousands of feet above us.
Jackson's parents are well aware of this, but sometimes they forget about something else. In a touching post Tori shared, she told fans about the time she took her son to a festival.
Tori admitted that she often forgets that her son has shorter than average legs and arms because he runs around and grabs things he shouldn't just like every other two-year-old.
Festival visit
However, when the family visited the local festival, Jackson wasn't allowed on an airplane due to his height. Tori said that "Jackson wanted so bad to ride the airplanes that went up and down," but he simply couldn't.
While Tori accepted the rules, she revealed: "It was really the first time I was hit in the face with the fact my child is different." Luckily, Tori joined just the right family for her son.
In August, granddad Matt Roloff stepped up and unveiled his plans to make up for Jackson's underwhelming festival trip. Although Tori did say that Jackson "brushed" off what had happened, Matt wasn't having it.
Roloff's big project
"Ok ok. The secret's out now," he wrote. "Remember when @toriroloff wrote a post about taking Jackson to the county fair and he didn't meet the height requirements .. so he had to watch the taller kids his age get to ride while he stood there and just watched... matters worse.. Jackson LOVES airplanes!"
Matt went on to say that phase one of his project was complete and that an item had been moved to Roloff Farms. "It's an airplane... Shhh," he advised fans before insisting, "Don't tell Jackson yet."
The 57-year-old said he was "making absolutely sure [Jackson] can access every single part of this new play structure." He added: "No height requirements on grandpa's watch!"
Jackson's plane
The post featured a short video clip of a truck hauling in the outer fitting of what looked like a small airplane. "Now it's time for the real work," someone said from behind the camera.
In a subsequent post, Matt reached out to fans for information on where he might find parts for the plane. Attached was a photo of what appeared to be a wooden plane with a short plank leading inside.
For the most part, the structure looked complete. It stood about two feet off the ground and featured a front propeller and a cockpit with clear windows.
Matt said that he's "looking to fancy this special project up a bit." The "stationary play structure" is meant for children who love planes "regardless of their [sic] heights."
The Roloff patriarch regularly posts video and photos of his grandson, so we're not at all surprised to see him go the extra mile to make little Jackson happy.
Pregnancy announcement
He'll soon have another grandchild to spoil. Back in May, Tori and Zach announced they were having a little girl. In the picture, the couple stood while their son and a soon-to-be big brother sat down holding one blue and one pink balloon in each hand.
His shirt read "big brother" and he smiled proudly into the camera. Other photos showed Tori holding onto an ultrasound picture. The newest addition is set to arrive this November.
More plane rides
In the meantime — and while we wait eagerly for a post with little Jackson enjoying his plane — it was great to see that his dad is also doing his part to keep his son's life full of new experiences.
In late August, Zack took Jackson on a ride with Envi Adventures and shared four snaps of the trip. The little tot looked serious as he sat inside the plane, but his smile at the end said it all.
Looks like the whole family is chipping in to do their part and keep the rising aviator's dreams alive and strong. We hope the cutie enjoys his adventures as much as we enjoying seeing him go at it.
Please fill in your e-mail so we can share with you our top stories!