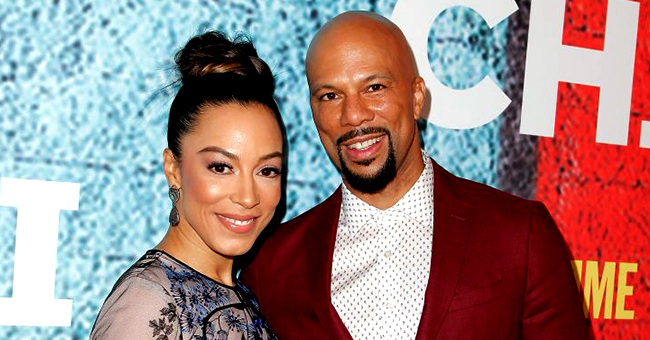 Getty Images
Common Confirms He and Angela Rye Are Back Together Again

Common hints that he is officially back in a relationship with Angela Rye, following his guesting on "The Angie Martinez Show" to promote his new memoir and upcoming album.
Speaking to Angie Martinez on her radio show, Common opened up about the release of his new album "Let Love," and his recent memoir release. He was also asked about his recent BET "Black Girls Rock" performance with ex-girlfriend Erykah Badu, clarifying the state of their relationship.
On Common's Memoir
Releasing his memoir "Let Love Have The Last Word: A Memoir" has been life-changing for Common after he spoke about such sensitive topics such as being molested at a young age. Since releasing his book, he has been regarded as an inspiration by many, with others who experienced the same thing seeking help and going to therapy because of him.
On Performing with an Ex-Girlfriend
Recently, in BET's annual "Black Girls Rock" concert, Common also performed with one of his exes, Erykah Badu, wth others wondering if they were ready to give love another chance.
In the interview, Common denied any relationship between them, saying it was just a performance and that he is currently in a relationship with his long-time rumored girlfriend, Angela Rye.
On His Relationship with Angela Rye
It's been a longstanding rumor that Common and his ex-girlfriend Angela Rye are indeed back together, as back in May, the two were spotted out together at T.D. Jakes' church.
The 47-year-old rapper and 39-year-old lawyer were spotted out a couple of times since they announced their breakup, which constantly hinted that their separation was quick. On May 5, 2019, the two of them were spotted at The Potter's House in Dallas, listening to their friend T.D. Jakes' sermon "Don't Burn the Baby."
At the time, Common was called up on stage to promote his memoir, and after promoting it, he sat back down right next to Rye and the two were together the entire event.
Since then, it is believed Common and Rye have been together since, and are in a happy relationship with one another, slamming all rumors of their separation.
Please fill in your e-mail so we can share with you our top stories!