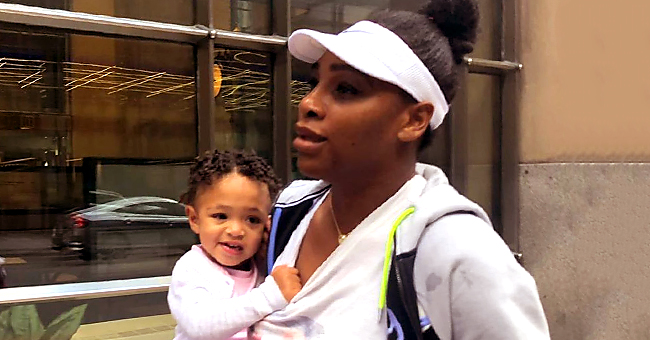 Getty Images
Serena Williams Cradles Daughter Olympia before Beating Maria Sharapova at US Open
Serena Williams made sure to spend some quality time with her husband and daughter prior to her opening match at this year's US Open, where she beat long-time rival Maria Sharapova once again.
It's the US Open once again and Serena Williams is ready to dominate the court the same way she always does. However, before getting her game face on, she spent some of her downtime with her husband and daughter, Alexis Ohanian Jr. and Sr.
A Family Affair
Before all the game nerves started creeping in, Serena Williams decided to go on a relaxing family day by walking around New York City with her husband Alexis, 36, and their daughter Alexis Olympia, 1.
On Instagram, Serena posted an adorable photo of herself cradling her little girl as they enjoyed their stroll in New York City.
Dressed in a colorful Nike windbreaker, Serena lovingly looked at her daughter, who donned a pink jacket as she placed one hand on her mom's chest.
First Round Victory
Their outing came before the 37-year-old tennis great dominated the court against Maria Sharapova, 32, in a 6-1, 6-1 match in the first round. The two took the stage at the Arthur Ashe Stadium in Flushing New York last August 26, where fans were treated to yet another classic match between the two ladies.
Both Williams and Sharapova have been rivals for quite a while, having met 22 times, Serena taking the win 20 times, while Sharapova taking the win just two times in all of their matches.
In this year's US Open, Serena hopes to take home her 24th Grand Slam title, which would hopefully be her 7th US Open title.
Serena's 2018 US Open Run
Last year, her championship run came to a halt when she got into an argument with the umpire officiating her match against Naomi Osaka last year. Williams was penalized three times, once for allegedly taking a signal from her coach, a second time for smashing her racket on the ground, and a third time for calling the umpire a thief.
Ultimately, she handed Naomi Osaka her first Grand Slam win and went home as the first runner up. Now that the US Open is here, she is back with a vengeance, aiming to win that championship once and for all.
Please fill in your e-mail so we can share with you our top stories!