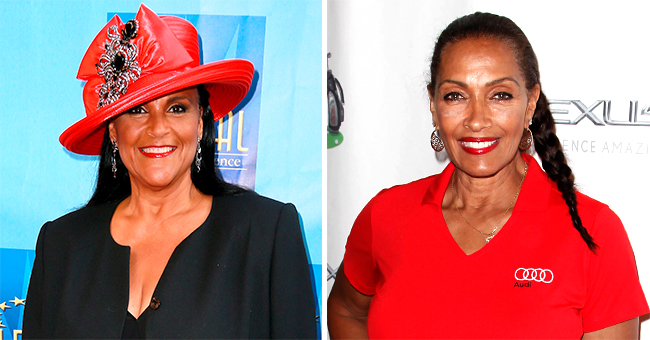 Getty Images
'Friday's Kathleen 'Mrs. Parker' Brady & Jayne Kennedy Have Beautiful Daughters by Same Actor
Jayne Kennedy and Kathleen Brady recently appeared in a photo together as friendly mothers of beautiful daughters who share the same father.
Actresses Kathleen Brady and Jayne Kennedy have more than one thing in common. Both from Ohio and former beauty queens, they were also married to the same man and sired beautiful daughters with him.
A
photo
recently shared by Jayne reveals the bond between her and Kathleen, a bond formed by their families that converge due to actor Bill Overton, Jayne's current husband and Kathleen's former spouse.
According to I Love Old School's account, Bill and Kathleen, better known as Mrs. Parker from "Friday" first married in 1980. They share a lovely daughter, Cheyenne Overton who was born within their four-year union.
A year after Bill and Kathleen divorced in 1984, he married Jayne who split from her first husband, Leon Isaac Kennedy in 1982. Bill and Jayne share three beautiful daughters, Kopper Joi, Savannah Re, and Zaire.
This was in spite of Jayne's struggle with endometriosis which is characterized as an abnormal growth of tissue outside the uterus that brought on sharp pangs of pain. One of its common effects is an inability to conceive.
However, in Jayne's case, it was different. She told USA Today in 2001 that she was advised by her doctor to get pregnant to treat her illness.
Jayne is still Mrs. Overton having stayed married to Bill to this day. They've been married for 34 years. Meanwhile, Kathleen, who wed Terrence Redd in 1988 is still Mrs. Redd today. They share a son together in addition to Terrence's daughter from a previous relationship.
A recent celebration brought Kathleen and Jayne together. This delighted Jayne who shared an image of their reunion on her Instagram. She revealed in her caption that it was a happy coincidence that Kathleen made it to her daughter, Savannah's shower because she happened to be in town for a high school reunion.
Since they are friendly within their blended family, Kathleen dropped in on the shower and posed with Jayne for a photo.
"So glad you could make it Kathleen. Love you!" Jayne writes in her caption.
Savannah, a liberal studies scholar who's also a professor got engaged in August 2018. At the time, a slideshow of her engagement to her fiancé, Jaris was shared on her social media along with photos of her ring.
With a wedding on the way, we're certain there will be another reason for Kathleen and Jayne to bond along with their beautiful daughters who also look so much alike.
Please fill in your e-mail so we can share with you our top stories!