99-Year-Old World War II Veteran Awarded 5 Medals in Arkansas Tribute Ceremony
At the age of 99, Thomas Franklin Vaughns was honored with five Army medals for his exceptional service in World War II and Korea.
The war veteran from White Hall, Arkansas was awarded with medals including the World War II Victory Medal, the American Campaign Medal - World War II, the Good Conduct Army Medal, the Honorable Service Lapel Button, and the National Defense Service Medal.
Vaughns received the medals in the presence of Senator John Boozman of Arkansas at the premise of University of Arkansas at Pine Bluff.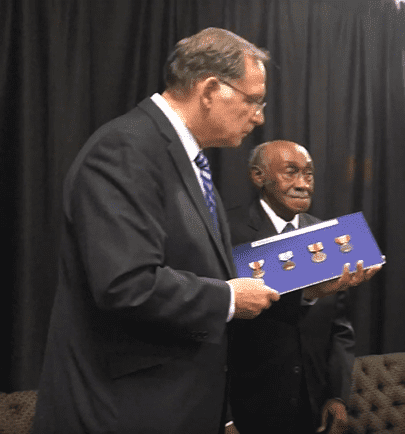 GOOD THINGS COME TO THOSE WHO WAIT
According to North West Arkansas, four of Vaughns's medals were replacement for medals the veterans had received but have been misplaced.
The last medal -- National Defence Service Medal for his service in the Korean War -- is the latest addition to his list of honors.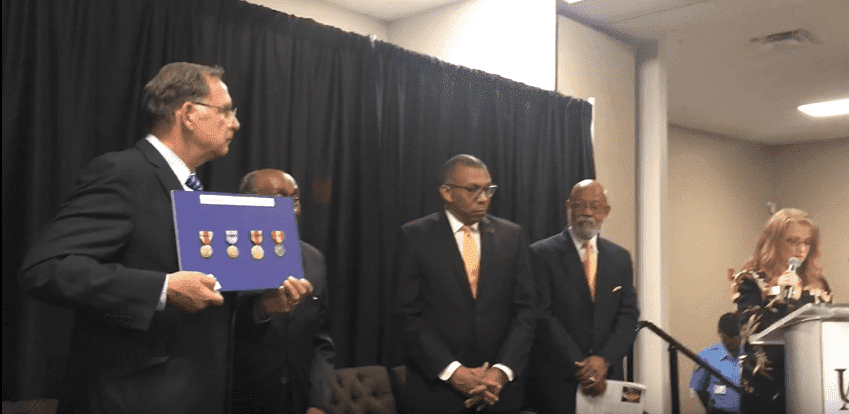 Vaughn suggested that he hadn't received the award yet because they were happy to have just left the war and return home.
After returning from war, Vaughns got involved in a career in education and helped shape lives of many young people.
A HERO IN EVERY SENSE
While presenting him the medals, Senator Boozman also addressed Vaughns's role in rebuilding the country.
"We all know about his great career in the military, going off at a young age to serve his country, willing to do whatever he was asked to do. Then he came home and, like the greatest generation, rebuilt the country."
The senator further stressed that Vaughns was a hero "in every sense of the word." He lauded the veteran not just for his time time in the service but for way he lived his life as well.
Vaughns was also praised for making his mark in the Army at a time when racism and 'legalized segregation' was high.
Despite all the challenges that he might have faced because of his race, Vaughns persevered and performed with duty with dedication and discipline.
As in the heartwarming incident above, previously, a group of bikers also paid their respect and honored a World War II veteran in their own unique way to touch the hearts of people.