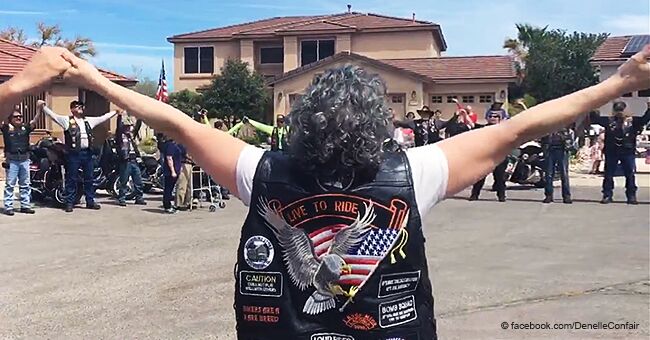 Bikers Hold Hands to Honor a WWII Veteran While Singing 'God Bless the USA' Together
A group of bikers honored a World War II veteran by holding hands while singing "God Bless the USA."
The touching video, posted on Facebook on March 30, 2019, shows dozens of bikers in their biker vests standing in a huge circle as they paid tribute to World War II veteran Jennings Shelton Jr. in Tucson, Arizona.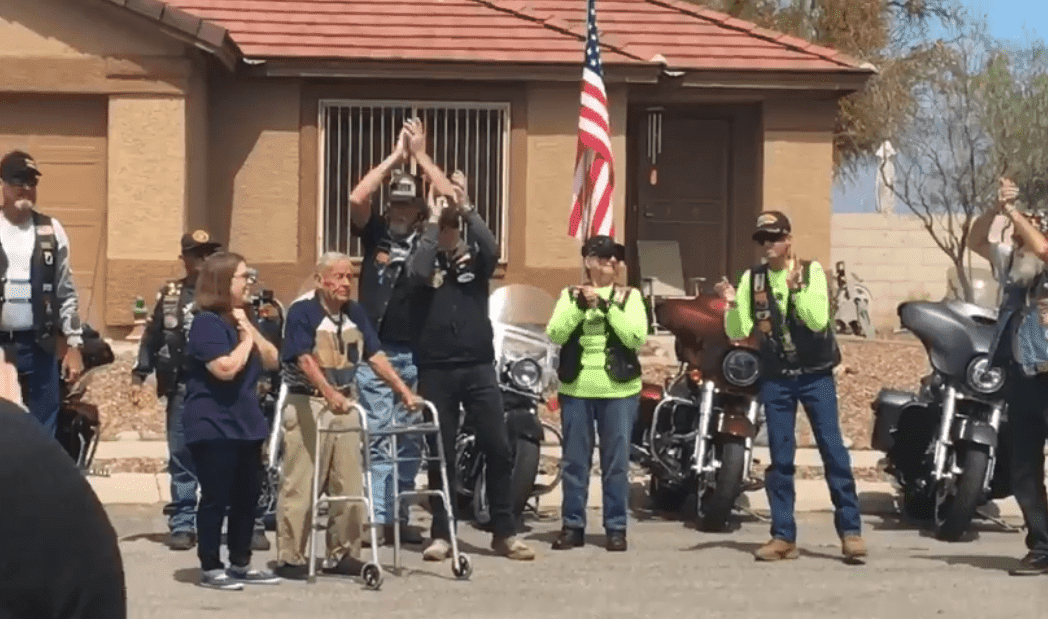 World War II veteran Jennings Shelton Jr. holding onto his walker | Photo: Facebook/Denelle Confair TV
Jennings can be seen in the middle of the circle holding onto his walker. Moved by the gesture, he wipes his tears as the bikers sing the patriotic song.
The bikers and other members of the community exude pride and patriotism as they lock hands and sing the iconic Lee Greenwood song that has been part of the American consciousness.
ANOTHER TOUCHING TRIBUTE TO A WWII VETERAN
This memorable scene is reminiscent of the tribute given to the late Major Jos Mark, Cumbria's most decorated war veteran. His casket was driven on the back of a World War II-era jeep during his funeral.
It was a fitting salute for the 95-year-old veteran, who used to drive a similar vehicle as a member of the Royal Logistics Corps. The Normandy veteran died at Penrith Hospital last February 16, 2019, surrounded by his family.
Born on December 26, 1923, the former Gurkha officer devoted his latter years to visiting schools to share his experience from Normandy.
Major Mark, who was also an Honorary Life President of the Carlisle and Stanwix Branch of the British Legion, made it his mission to ensure that the next generations know about the sacrifices of their forefathers.
THE STORY OF ANOTHER INCREDIBLE VETERAN
Another extraordinary story involving a World War II veteran is that of Major Claude Hensinger. His old parachute became the fabric of his bride's wedding dress. It was also the parachute that saved his life during World War II.
Major Hensinger and his team had just triumphantly made a bombing run over Yowata, Japan. However, one of their engines burst into flames on the way back to base.
Everybody needed to bail out over China instead of heading home. The parachute got Hensinger securely to the ground. It also kept him warm and staunched the bleeding from an injury he had sustained. Hensinger continued to hold on to the parachute. He eventually made it to safety.
Please fill in your e-mail so we can share with you our top stories!