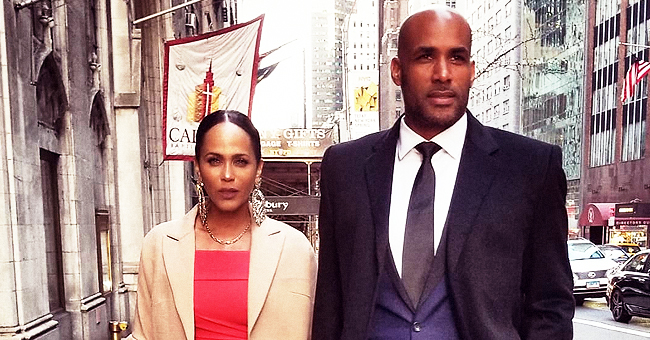 Instagram/boriskodjoe
Inside 'Soul Food' Actors Boris Kodjoe and Nicole Ari Parker's Love Story & 14-Year-Long Marriage
Here is why Hollywood stars, Boris Kodjoe and his darling wife, Nicole Ari Parker, have been married for over a decade, and their relationship is "goals."
The black American couple shares an eye-catching, tongue-wagging story. Their love affair is one that strokes emotions.
Although their "Till death do us part" were said fourteen years ago, the duo never misses a chance to serenade each other with sweet words.
Even if it involves making a joke, Boris and his longtime Beau are in on it! Recently, in a bid to celebrate having spent over a decade of their lives together, Nicole chose to prank her man by evading his privacy.
The actor was in the bathroom, unaware that his wife was making a video while she stood outside the bathroom, wishing him a happy anniversary. The "Soul Food" star posted the clip, with a caption expressing her support and love for her partner.
The "Daddy's Little Girls" actor responded with an upload on his Instagram page. The image uploaded was a hearty picture of the couple on the beach. He captioned the post with appreciative words that are as beautiful as his woman. The caption read:
"Happy 14th anniversary to this flower standing next to me. I love you @nicoleariparker for baring your soul, for opening your heart and for shining your bright light through the thickest and thinnest of times."
This is not the first time the Austrian born will be serenading Nicole with the best of words. Last year, when their marriage clocked 13-years, Boris shared a video and captioned it with the most incredible and invaluable words.
The number thirteen seemed to be a special digit for the actor as he penned down 13 ways in which he showed his love. According to him:
"....13 ways I have been loving you, as a man, as a friend, as a father to your children, as a fan of your craft, as an artist to his muse, as a partner…"
The actor isn't the only one who does all the postings; his lover posted a crafty message on his last birthday. She made sure she expressed her gratitude and affection in no small way, like a highschool girl meeting her knight in shining armor for the first time.
The pair met on a 1997 hit series titled "Soul Food," and they have since nourished each other's souls, no wonder they seem spellbound in their relationship.
But good history, after their wedding ceremony in 2005, the couple welcomed two children, a girl, and a boy, Sophie and Nicolas.
The delectable actress acknowledged to having it tough sometimes in marriage, but she advised that it is good to treat your man nicely. The mother of two stated that the mental well being of both partners is also required for a healthy and balanced relationship.
She continued by saying it is good to keep the flames burning, but that once you notice a man you admire, go for him! According to her:
"So I always say, the minute you find your husband, make him your boyfriend."
The pair revealed in an interview that it was God's idea to get them started. Last year, Nicole shared her conversation/request with God on her social media handle.
The details showed how lengthy her list of a perfect man was, and how unprepared she appeared if he showed up at that moment. Having spent 14 years with her Mr. Right, it is obvious her prayers were answered.
Please fill in your e-mail so we can share with you our top stories!