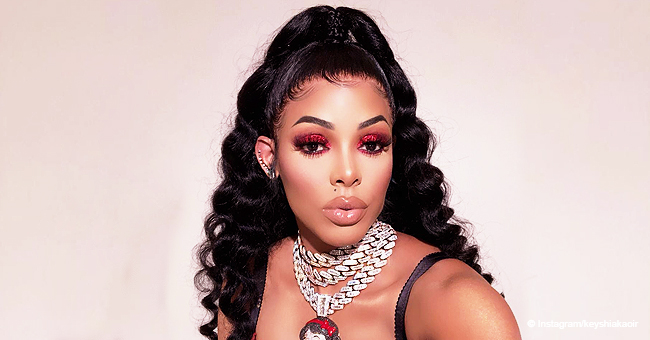 Instagram/keyshiakaoir
Gucci Mane's Wife Keyshia Ka'Oir Reveals How Her Waist Went from 28 Inches to 18 Inches in Video
Keyshia Ka'oir, the wife of renowned American rapper Gucci Mane, has set the internet abuzz after sharing the secret to her extremely curvy physique.
Via Instagram, the stunning entrepreneur shared a short clip advertising her new fitness product, the Ka'oir Waist Eraser.
The short clip features a voice-over of Ka'oir explaining the benefits of the waist trainer while she is videoed doing her exercise routine wearing the Waist Eraser.
HOW KA'OIR GOT HER HOURGLASS FIGURE
The routine seems like a strenuous one looking at Ka'oir, but it looks very effective as the stunning beauty showed off the positive results.
Coming close to the camera, she showed that her waist circumference now measures about 20 inches, a staggering difference from her former measure of 28 inches!
That did not just happen overnight as the video also included Ka'oir sharing that she has been using the Waist Eraser for two years now. That, she mentioned as she reassured viewers that the fitness product is of high quality like many other Ka'oir products.
It is a commonly known fact that the best and most natural way to achieve a stunning figure is staying faithful to exercise. That is, however, easier said than done, and it seems the Waist Eraser is aimed at speeding up the process of burning waist fat.
"Started at 28 inches now at 18" @kaoirfitness #KaoirWaistEraser," Ka'oir wrote alongside a golden trophy emoji.
The video quickly gained attention and so far, has amassed well over 230,000 views. The comments section is abuzz with hundreds of messages as fans express awe at the Waist Eraser, which seems so easy to use.
One fan, @queendahli who already owns one, positively testified to the effects of the Waist Earlier writing:
"It's so comfortable good back support you can go to bed in it ... I must say it's the best out of all the waist shaper purchase."
"Just bought my waist eraser and I Looveee it," said another, @taylorclay.mua.
"YOU NEED TO STOP FOOLING PEOPLE," A NETIZEN WRITES
Even amidst many testimonies like these, a significant few still aired suspicions that the drastic change in Ka'oir's physique is a result of cosmetic surgery.
One Instagram user, @luanna.young wrote:
"You need to stop fooling people; let them know u got your body done and stop selling dreams."
It is not the first time Ka'oir's tiny waist will be attracting snide comments. A May 6 Atlanta Back Star article shares that the gorgeous entrepreneur went under fire on Instagram after she was spotted at a game with her rapper husband.
Many aired speculations that the "waist looks unreal." Even after Ka'oir publicly detailed her fitness secret via Instagram, it seems many still believe the drastic change is a product of surgery.
Please fill in your e-mail so we can share with you our top stories!