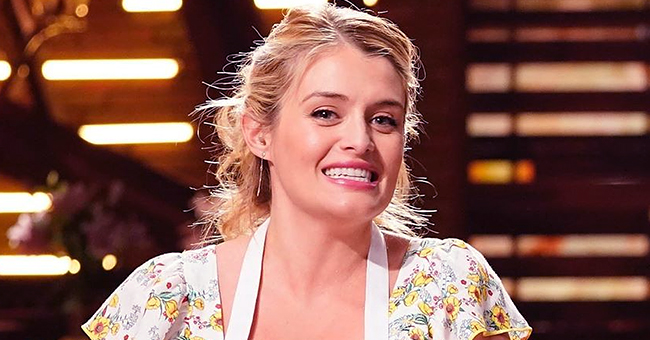 instagram.com/daphneoz
Dr. Oz's Daughter Daphne Shares Wedding Photos from Her Two Religious Services on 9th Anniversary

Daphne Oz shared adorable photos of herself and her husband, as they celebrate their 9th anniversary. She looked stunning in "Gowns and crowns."
Daphne Oz is the daughter of the famous Dr. Mehmet Oz and she's married to John Jovanovic. The couple recently celebrated their 9th anniversary, and Daphne celebrated the day with a photo slide on Instagram and heartfelt words.
A DREAM GIRL IN "GOWNS AND CROWNS"
The first photo showed the couple about to share a kiss on their wedding day, and in the second, they looked adorable wearing crowns. In the caption, Daphne revealed it was for a Serbian ceremony. In the third photo, the couple shared a kiss with the mum-of-four holding a cookie, and John holding a pink champagne flute.
In the accompanying caption, the "MasterChef Junior Chef" judge wrote:
"9 years ago today, I married my best friend. Four kids later, and I love you more every single day. Thank you for making me feel like your dream girl in gowns and crowns…"
DAPHNE JUST HAD A BABY
The TV host's followers congratulated her and John, on their anniversary, writing, "Happy anniversary," "Congratulations mama," and, "Cutest couple ever, love you guys."
Daphne and John recently welcomed their fourth child, a girl named Giovanna, sometime this month. In a photo posted on Instagram at the time, the new mum's eldest child, Philomena, 5, held her baby sister.
In the accompanying caption, the "The Chew" host thanked her followers for celebrating with her family and revealed it was the first time her "Oldest and littlest" met for the first time.
FOUR BABIES IN FIVE YEARS IS DEMANDING
Daphne shared the baby news back in March, joking about a bun in her oven. She revealed the gender with a gender-reveal lasagna on the show she co-hosts with Dr. Oz, "The Dish on Oz."
In an interview with People in early August, the four-time mum said her latest pregnancy is her hardest physically. She noted that while the body can tolerate a lot, sometimes it needs room to breathe, and four pregnancies in the space of five years is a lot for the body to take on.
Daphne also said she made sure she felt good in her body by getting clothes that made her feel sexy. After delivering Giovanna at a measurement of 21 inches, a weight of 8lbs and 5oz, the happy mum is ready to get her body back. Thankfully, she has John to support her through it!
Please fill in your e-mail so we can share with you our top stories!