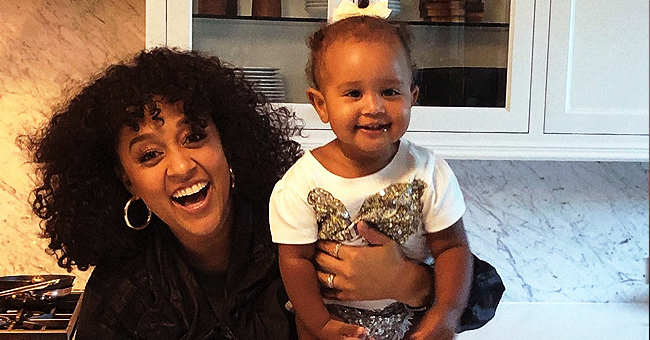 Instagram/tiamowry
Tia Mowry Posts Throwback Photo of Son Cree & Fans Are Amazed How Much He Looks like Baby Cairo

Tia Mowry threw back to when her son Cree was a baby with a lovely photo and fans are convinced that he's Cairo lookalike!
Yesterday, Tia Mowry delighted her fans with an amazing throwback of her 8-year-old son Cree.
In the image, Cree was still a baby, and his mum happily carried him in her hands as they posed for the camera.
The proud mother captioned the post:
"TBT to when Cree was a baby."
As usual, fans of the "Sister Sister" star flooded the posts with comments, however, they weren't about how cute Cree was a baby.
They couldn't help but point out that he looked so much like his younger sister, Cairo.
@e4everything_ asked:
"So, Cairo is a duplicate? Got it!"

A Fan's comment on Tia Mowry's post. | Source: instagram/tiamowry
@cr9tvegurl6620 confessed:
"I thought it was Cairo wearing blue."

A Fan's comment on Tia Mowry's post. | Source: instagram/tiamowry
These internet users had the same comment about younger Cree.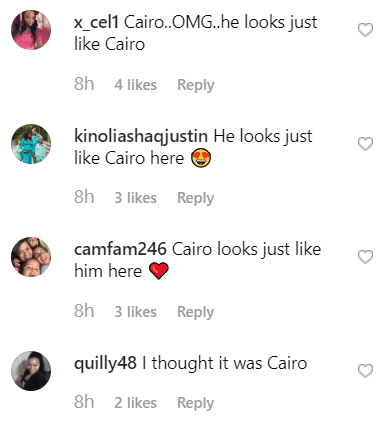 Fans comments on Tia Mowry's post. | Source: instagram/tiamowry
CAIRO IS SMARTER THAN CREE
While Cree and Cairo look like twins, they are not the same in all areas, especially when it comes to intelligence.
While speaking to US Weekly, the 41-year-old confesses that she thought her daughter was smarter than her son.
She explained:
"Women are smarter. I would say that she's picked up her milestones a lot quicker, or sooner, than Cree. But maybe it's because Cree's around stimulating her."
However, the difference in IQ hasn't stopped the sibling pair from being best of buds. She revealed that Cree is "smitten" with his little sister as he loves taking care of her.
"He's obsessed with her. And the feeling is mutual. When he comes into the room, she'll just start getting really excited and gets a big smile on her face, Tia said."
Seeing them bond is something that warms Tia's heart as she struggled to conceive her daughter, hence the 7-year-gap between them.
When it comes to disciplining her little ones, Tia reveals that she doesn't spank. Her sister, Tamera, however, doesn't buy into that method.
For Tia, this is because:
"I see it differently as … if you're spanking your child, in my opinion, it's because of you and where you are in your headspace. You're impatient and just want to get things done, over with. Whereas I feel like if you don't [spank them], then it takes more time."
Regardless of how Tia chooses to discipline her kids, we are sure she has their best interests at heart in the end!
Please fill in your e-mail so we can share with you our top stories!