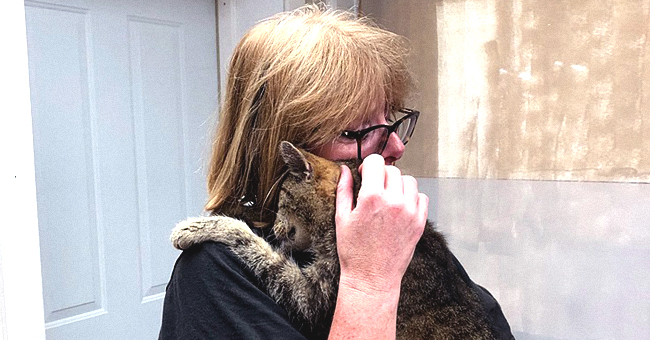 facebook.com/Dutchess County SPCA
Cat Who Went Missing When He Was 3 Years Old Reunited with Owner after 11 Years

Some cats usually leave home for a couple of hours or even days. Thankfully, most of them come back. Tiger, Maggie Welz's cat, took things to the next level.
Their story was shared by the Dutchess County SPCA Animal Shelter on Facebook. Carol O'Connell, a member of the shelter's staff in New York, revealed that she had been watching a stray cat wandering around her neighborhood for at least three years.
However, the animal never got close enough for her to pet him. One day, Carol was focused on helping the cat and borrowed a scanner from the shelter.
"We determined that he was coming home."
Helping Tiger get out of the streets
When she used the device on the animal, she discovered he had a microchip that identified him as Tiger. Apart from that, the scan revealed the name of his owner: Maggie Welz.
Although finding the owner of a stray cat was already an incredible achievement for Carol, the most shocking aspect of the story is that Maggie had not seen Tiger in 11 years!
Soon after taking Tiger into the shelter, a doctor examined him and noticed that he was in a "remarkably good shape" for a cat who lived on the streets for more than a decade.
The beautiful reunion
Maggie eventually went to the shelter to pick up the cat that had left home when he was three years old. The Facebook post uploaded different photos of Tiger, including the touching moment of the reunion with his owner.
In an interview with ABC 7, Maggie revealed that the cat escaped when someone accidentally left the door opened. About a year later, she moved to a place about 10 houses from their previous home and told the new owners to contact her if Tiger came back.
Maggie never lost hope
Although the pet was missing for more than ten years, Maggie admitted that she never stopped believing that he would return home.
"At that point, we determined that he was coming home, we had made a commitment to him, and we wanted him to come back home to us," Maggie added.
One of the best things about Tiger being back home is that he acts as if he had never been away, crawling up on Maggie and getting along with her just like in the old times.
Carol is not the only person focused on helping animals. A 12-year-old boy named Darius Brown surprised his community in Newark, New Jersey, by making bow tines for cats and dogs in shelters as a way to help them get adopted.
Please fill in your e-mail so we can share with you our top stories!