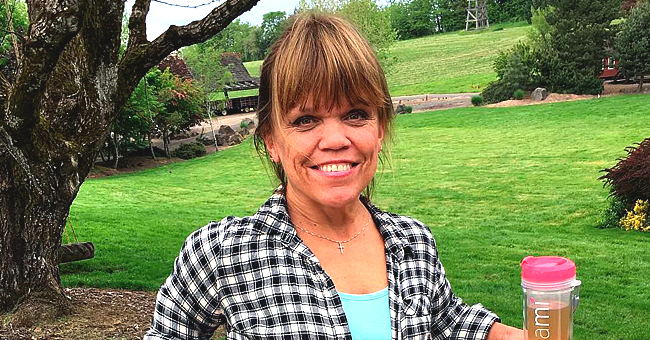 Instagram/amyjroloff
LPBW Star Amy Roloff Returns from Trip with Boyfriend Chris Marek to Find Rescue Dog Felix Is Ill

Amy Roloff had just returned from an "awesome motorcycle trip" with boyfriend Chris Marek to find her beloved rescue dog not recovering from an illness, and took to social media to share her concern.
The "Little People Big World" star took to Instagram on August 26 and shared an update loaded with concern over Felix and a schedule that shows a busy time ahead.
Amy and Chris had just returned from motorcycle trip where they rode along the coastline to Redwoods in CA, and then to Crater Lake in Oregon before they headed back home.
"In the meantime, my poor Felix fell ill, and I'm trying to figure out what's wrong," Amy wrote. "He got sick on Thursday, and he's not getting better. It may be a kidney issue. My poor little fella."
Hoping that matters will work themselves out, Amy went on to explain that Felix's illness came during a busy time. "From getting home from a great trip to figuring out how to get Felix better, wedding coming up, still finding a house, speaking engagement to purging and oh yeah working," Amy added. "And it's all going to work out. That's the hopeful part."
The reality star found support in her soon-to-be daughter-in-law Isabel Rock, as she also took to social media with a heartfelt post about Felix on Instagram.
"Hey, Instagram fam?" Isabel wrote on her Story. "Please send some loving, healing vibes to my future mother-in-law's dog, Felix."
Isabel and Amy became close, and although fans couldn't respond to Isabel's Instagram Story, they made their support known on Amy's post about the ailing Felix.
"Amy I'll be praying for little Felix... Thank you too for being such an inspiration to me... keep being the shining light that you are," a fan commented.
"Hope little Felix is feeling better soon! Aloha from Maui!" a follower wrote while another added, "He's most important now! I hope he is going to be back to good health soon! You were gone awhile he's been loyal to you, so the focus is on him now."
Farmlife had Amy get used to having a variety of animals around, but her most beloved and loyal of them all is Felix, who never leaves her side when she's home.
Since she rescued Felix, Amy has dedicated several Instagram posts to her pooch where Amy shared that she "can't imagine Felix not being w/me," and also admitted that she's "not sure who rescued who, but Felix is a wonderful fur friend in my world."
While Amy is still living in the farmhouse, which she owns after her divorce from Matt Roloff, the reality star announced back in July 2019, that she will be leaving the farm as soon as she finds a house.
The reality star has had an uphill battle in finding a suitable home after she wasn't able to get the house she wanted.
Please fill in your e-mail so we can share with you our top stories!