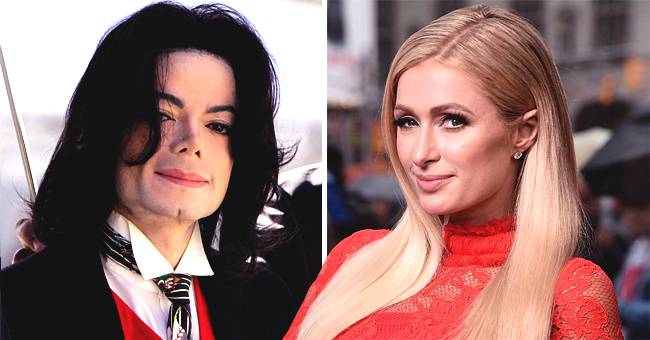 Getty Images
Paris Hilton Marks Michael Jackson's Birthday with Old Pic in the Aftermath of 'Leaving Neverland'
The King of Pop, Michael Jackson, would have turned 61 last Thursday. The former reality star, Paris Hilton, remembered the pop star with a throwback picture of him and her family.
August 29 marked the 61st birthday of the legendary pop star, Michael Jackson. On the special occasion, Paris Hilton took to Instagram to pay tribute to the music mogul with a throwback picture.
The image featured a young Hilton, Michael Jackson, and her family huddled up together. "Happy Birthday #MichaelJackson! Love & Miss You," she captioned the post. Some big names also wished Jackson a happy birthday and wished he was still here.
HILTON DEFENDS ABUSE ALLEGATIONS ON JACKSON IN "LEAVING NEVERLAND"
Hilton had defended Jackson from new allegations of abuse in the 2019 documentary, "Leaving Neverland." Michael Jackson is an icon, he's my family," she said.
Hilton said that she considered Jackson her family and added that she would still play his songs on her DJ sets. Comedian Dave Chappel also stirred up some mixed reactions after he lashed out on man accusing Jackson of abusing them as children.
PARIS HILTON REVOLTED BY THE RUMORS ABOUT HER AND MICHAEL JACKSON
On an episode of "Extra," Hilton got down to address some rumors surrounding her relationship with Jackson. The rumor was that Hilton and Jackson were an item.
Hilton immediately denied that she was ever involved with the pop star, who was 23 years older than her.
"I heard that rumor, it's the craziest rumor I've ever heard," she said. "I have no idea, I knew him since I was born, my whole life, so I don't know how they would come up with that."
KRIS JENNER AND KYLE MASSEY PAY THEIR RESPECTS
After Hilton's post hit the Internet, a wave of netizens swarmed the comment section to pay their respects. Some big names also pitched in to honor and respect the late Jackson.

Kris Jenner's comment on Hilton's post | Source: Instagram/parishilton

Kyle Massey's comment on Hilton's post | Source: Instagram/parishilton
The "Keeping Up With The Kardashians" star, Kris Jenner, commented on the post with a series of heart and praying-hand emojis. Meanwhile, American rapper, Kyle Massey, wrote: "Miss the king happy birthday #MJ."
On another side of Instagram, supermodel Naomi Campbell paid her tribute to the Jackson.
NAOMI CAMPBELL ALSO POSTS A TRIBUTE TO MICHAEL JACKSON
Naomi Campbell, the supermodel, also posted a tribute to the late king of pop. She featured a picture from her video with Jackson: "In the closet."
"HAPPY BIRTHDAY. ALWAYS IN MY HEART. MISS YOU @MICHAELJACKSON. #FOREVERKINGOFPOP #BLACKEXCELLENCE #KING #TBT" she wrote.
Even though the legend is not in our midst, his fans have shown tremendous devotion and love for him. May his soul rest in peace.
Please fill in your e-mail so we can share with you our top stories!