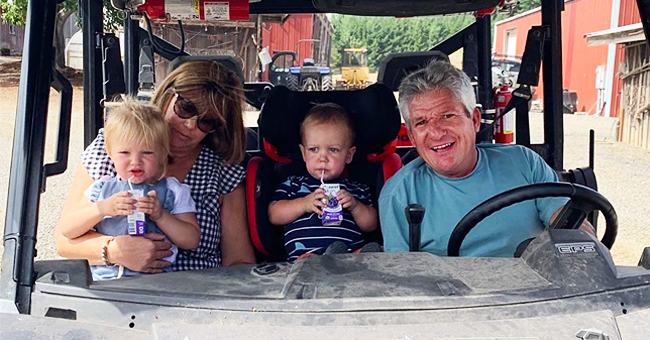 instagram.com/mattroloff
LPBW's Matt Roloff Posts Photo with Girlfriend Caryn Chandler and Grandkids Ember & Jackson

Matt Roloff and Caryn Chandler are sharing grandparents duties! Recently, the LPBW star shared a photo which featured him, his beau and grandchildren, and hinted about it being an everyday affair, with the words, "Almost every day."
Matt Roloff and Caryn Chandler are still going strong. Their relationship now includes spending time with Roloff's grandchildren, Ember and Jackson. In a photo on Matt's Instagram, himself, his lady, and grandchildren enjoyed a ride on a mule.
The photo captioned "Refreshment time," showed Jackson tucked in his seat, and Ember sitting on Chandler's laps, as she focused her attention on the little girl. The two children enjoyed juice boxes, while the grandfather smiled for the camera.
In the comment section, Roloff wrote:
"Normally, when we get blessed enough to get both Ember and Jackson at the same time, we take a ride around the farm on a mule. Then take a break, and have a snack from grandpa and juice bar."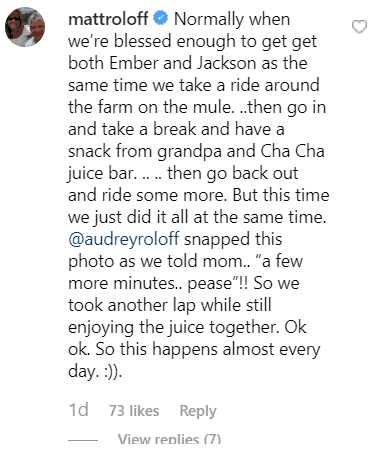 Matt Roloff's comment on his Instagram post | Photo: Instagram/mattroloff
The LPBW star continued:
"Then go back out, and ride some more. But this time, we did it all at the same time. @AudreyRoloff snapped this photo as we told mom, 'A few minutes, please."
He added that they took another lap, before ending the comment with:
"OK. OK. So this happens almost every day."
Roloff and Chandler have been together since 2017, following his divorce from his ex-wife, and mother of his children, Amy Roloff.
The mum-of-two used to work on the Roloff Farms as their manager but quit last year. While she might no longer work as a manager, she still frequents the place to spend some time with her man.
The visits give the former manager an opportunity like the one in the photo, to get close to the reality star's family. Chandler appears to be close with Roloff's son, Zach who still lives on the farm, with his wife, Tori.
The dad-of-one once said about his father's relationship with his girlfriend, Caryn:
"Caryn is part of the Roloff Farms operation. As far as their relationship goes, I don't have anything to say about it. My parents are divorced, so, yeah."
While Zach might not have anything to say, his mother has plenty. In her book, "A Little Me," the mum-of-four alluded to Roloff and Chandler having a relationship when they were still married. That accusation has followed the former manager and earned her haters among "LPBW" fans.
Roloff and Chandler overcame that phase, and while many of their admirers would love to see them married, the two are happy with where their relationship is right now and are not in a hurry to make things more official.
Please fill in your e-mail so we can share with you our top stories!