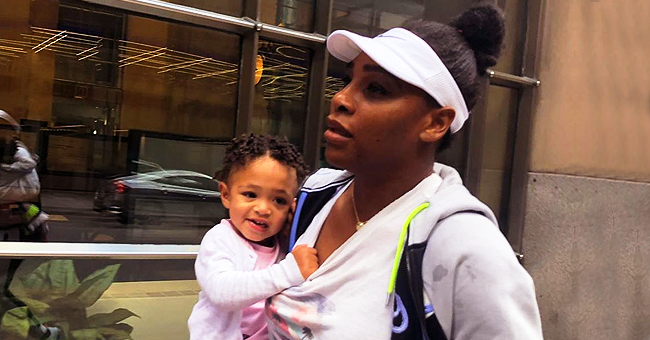 Instagram/olympiaohanian
Serena Williams on Pain of Being Apart from Olympia during US Open Ahead of Daughter's 2nd B-Day

Serena Williams is a widely recognized legend in the sports industry, but that comes with its challenges, especially now that she is a mother.
Serena was plunged into fame in 2002 after she reached the No. 1 ranking for the first time. Ever since then, it has been a victorious ride for the dark beauty.
Now a mother of one, Serena, however, shares that her tennis career has put a limit on the amount of time she spends with her baby daughter, Olympia.
"I'VE BEEN MISSING HER THE LAST FEW NIGHTS WHEN I PLAY," SERENA SAYS OF OLYMPIA
The athlete discussed motherhood while on the court after coming out victorious in her August 30 match against Karolina Muchova of the Czech Republic.
Serena has now come to love playing during the day as it helps her to maximize time with little Olympia. It is the same for her US Open game so that she gets to spend the evenings with the two-year-old.
While her August 30 match was in the daylight, the previous two took place in Arthur Ashe Stadium at night.
"I actually prefer playing in the day because I get to go home and see my baby. I've been missing her the last few nights when I play," the 37-year-old quipped.
Olympia is a product of Serena's marriage to famous Reddit co-founder, Alexis Ohanian. Little Olympia, born September 1, 2017, recently clocked two and that is undoubtedly one of the times when Serena would wish to have a day match.
SERENA EXPLAINS THAT SHE HAS TO "KEEP WORKING" AND RESIST STAYING WITH DAUGHTER
Williams, who will also mark her 38th birthday in September, is working very hard to win a tournament. Since the birth of Olympia, the athlete has not won any match, which is why she's hard at competing in New York.
Thankfully, little Olympia seems to be a bit more understanding. According to Forbes, and the doting mother shared that her little cutie has come to learn to accept that she won't be seeing mummy for a few hours.
Serena, who describes delivering Olympia a miracle, shares that she treasures every little second she spends with her. According to the pro tennis player, Olympia now tells her "By-ee" whenever she is leaving for the Open each day.
"It's different. In the beginning she would really be upset when I left. And now she's a little bit better. I think I'm a little more upset. But at the same time, she definitely still takes it a little hard. She's still super young." – Serena
She further explained that her heart "literally aches" whenever she's away from her little girl. Serena, however, finds it motivational to be an example of how juggling motherhood and career is possible to other mothers out there.
Please fill in your e-mail so we can share with you our top stories!