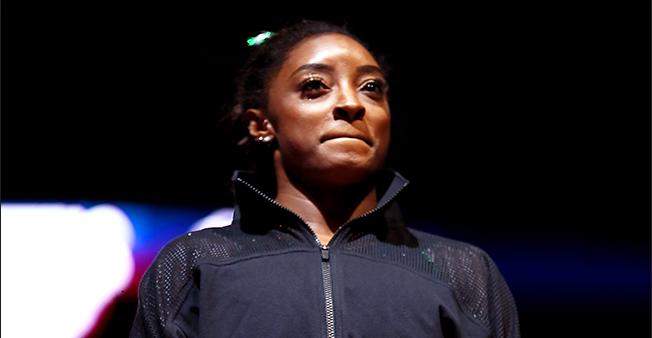 GettyImages/GlobalImagesUkraine
Olympic Gymnast Simone Biles Breaks Silence on Brother Tevin's Triple Murder Charges in Ohio

22-year-old Olympic gymnast, Simone Biles took to Twitter to break her silence after her elder brother got charged for murder.
Just a few days after her elder brother got arrested in connection with an Ohio shooting that left three people dead, Olympic gold medalist, Simone Biles, is finally speaking out. Taking to Twitter to express herself, Biles stated that she was having a rough time processing the news.
In her words:
"My heart aches for everyone involved, especially for the victims and their families. There is nothing that I can say that will heal anyone's pain, but I do want to express my sincere condolences to everyone affected by this tragedy. I ask everyone to please respect my family's privacy as we deal with our pain. XO"
Her fans immediately took to her mentions to share words of encouragement and show that the 22-year-old has their support. One fan tweeted:
"Process it in your own time. Be kind to yourself. Remember what is important to you in this time."
While another fan stated that:
"There is a lot we can do on social media to encourage you, which we are and everyone is behind you. But I hope your gymnastics family will get behind you and offer you support as well."
Some fans are upset that the gymnast's name got dragged into the mess. According to a Twitter user:
"No one should be bringing you into this because you have NOTHING to do with it."
Another fan added:
"You shouldn't have to explain yourself to anyone as you didn't have anything to do with the unfortunate events."
Biles came into limelight in 2016 when she became the vault and floor gold medalist, and balance beam bronze medalist. And according to NBC News, she is the most decorated American gymnast of all time.
It is quite heartbreaking that she is in the news for her brother's woes.
TEVIN BILES-THOMAS ARRESTED FOR MURDER
It was with shock that fans and supporters of Simone received the news that gymnast's 24-year-old brother, Tevin Biles-Thomas, had been arrested and charged with murder. The incident which took place in Cleveland, Ohio, resulted in the death of three men.
According to a report by Cosmopolitan, Tevin was taken into custody on 29th of August in Georgia. He then got charged with six counts murder, three counts of voluntary manslaughter, five counts of felonious assault, and one count of perjury.
Please fill in your e-mail so we can share with you our top stories!