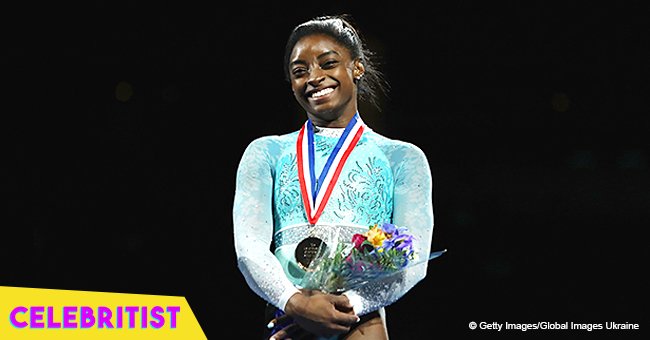 Simone Biles heats it up on the beach wearing pink bikini after making gymnastics history

Simone Biles is back on the beach after her impressive comeback at the US Gymnastics Championships this month. The gymnast returned to the floor after a 23-month hiatus making history with her latest win.
Fresh from her historic win at this month's US Gymnastics Championship, Simone Biles hit the beach with a female pal.
As many who follow Simone Biles recently know, the gymnast took a 23-month hiatus from the sport to focus on enjoying time for herself. In most of her posts this year, she's either soaking the sun in a beach with her boyfriend, Stacy Ervin or spending time with her friends.
This month, Simone decided it was time to return to gymnastics and she did so with an impressive finish. Surprising the world, she bagged all five all-around titles at the US Gymnastics Championship making her the first ever woman to win the national all-around for five years. She claimed the title from 2013 to 2016 and now in 2018.
Simone's record finish solidifies her mark as the gymnast to beat. She garnered at two-day all-around score of 119.850, besting her runner-up, Morgan Hurd, last year's all-around champion, by 6.55 points. Simone's new margin of victory is her highest yet, proving she's even physically better now than she was when she won five Olympic medals in Rio in 2016.
Having claimed her victory, Simone is back on the beach enjoying time with a friend. She shared a photo of the two of them in bikinis laughing as they sat on beach chairs surrounded by their paraphernalia. The two are no doubt celebrating her latest win and making plans for more time at the beach, now that she's accomplished quite a feat this month.
Simone has had to deal with a lot in the past months, especially after she came forward as one of 150 women who fell victim to gymnastics doctor Larry Nassar's sexual assault in January. To pay tribute to sexual abuse survivors like herself, Simone wore a teal leotard during day two of her recent competition. She told "Today" show hosts, the color was of special significance to her.
"The color teal is for sexual abuse survivors and I think it's very special. So I got to wear it this morning and I also got to wear it day two of competition for all of us to unite and for me to support all of them."
Nassar is now behind bars serving three consecutive prison sentences. He will be spending the rest of his life there.
Meanwhile, Simone is gearing up for the 2020 Summer Olympics in Tokyo. No doubt she'll be breaking new records by then.
Please fill in your e-mail so we can share with you our top stories!