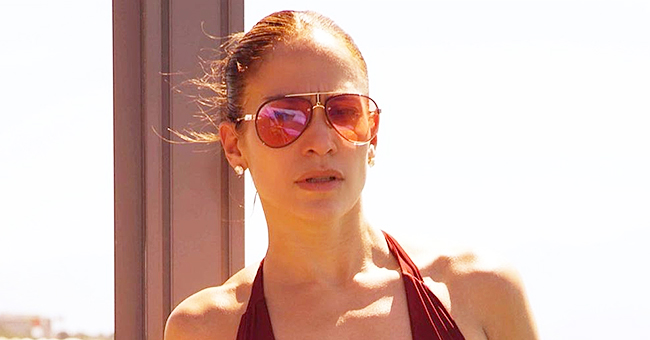 instagram.com/jlo
J-Lo Flaunts Toned Abs & Slender Legs in Behind-The-Scenes Pic from 'Hustlers' with Cardi B
Upcoming American crime film, "Hustlers" is set to premiere in a few days. Jennifer Lopez, a cast member, has, however, managed to set the internet abuzz as she gives fans a peek into work behind the scenes.
Just a few hours old, the picture has already amassed over 1.5 million likes. That is no surprise considering the star ensemble cast as well as the worldwide publicity of the movie.
At this point, which is so close to the movie premiere, fans are interested in every little information they get. Jennifer Lopez, who will appear as Ramona Vega in the upcoming film, indulged netizens when she shared this picture of herself during filming.
"It's a Labor Day surprise!!!!!!! Here's a look at my first scene with @iamcardib from @HustlersMovie! Don't miss a new trailer coming tomorrow. #HustlersMovie," the mother of two excitedly wrote to caption the photo.
The snap also features famous "Bodak Yellow" rapper, Cardi B, who wore a black minidress. All attention is, however, on Jennifer Lopez, who looked very youthful for someone aged 50.
The award-winning singer can be seen seated on a high platform, which looks like it might be a stage. For the scene, which she explained was her very first scene with Cardi, JLo left very little to the imagination wearing a purple bra and see-through black panties.
The sultry ensemble was brought to a perfect finish with teetering tall platform stilettos and with JLo's hair pulled back into a messy bun. The veteran entertainer looks nothing like her age as she bared her tanned physique in the barely-there ensemble.
"JLO, I FEEL OLD AND FAT LOOKING AT YOUR PICTURES," WRITES A FAN
Her position at the time the photo was taken sitting and flexed a bit forward drew attention to her womanly features as well as her toned midriff. JLo is at her prime at 50 and is also a mother of twins, but she sure looks nothing like it.
The sheer wonder of that alone caused fans to leave numerous compliments for her in the comments section. One fan, @corrina_corrina_ commented:
"Jlo just sitting there, still looking hot! Her body is 'fire emoji.'"
Another, @au.xi wrote:
"JLo I feel old and fat looking at your pictures."
While another user, @kayla_jlover expressed admiration for both women pictured.
"So cute how she looked up to you, then you made music together, & now you guys have a movie coming out together. Two queens from the Bronx," the comment reads.
"Hustlers" features a multi-talented group of women; asides JLo and Cardi, the list includes Constance Wu, Keke Palmer and Lizzo. The women are expected to display their dancing talents which makes JLo, a known dancer, one to especially watch out for.
It is one of the many reasons the film is so widely anticipated, and reports have confirmed that it will premiere September 7.
Please fill in your e-mail so we can share with you our top stories!