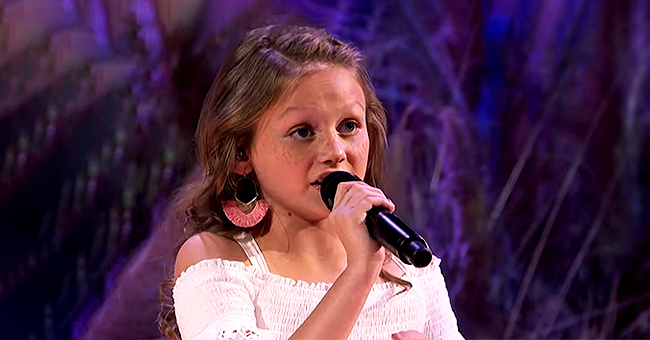 youtube.com/America's Got Talent
12-Year-Old AGT Contestant Ansley Burns Wowed the Audience with Her Rendition of 'Cry Pretty'
Ansley Burns, the 12-year-old contestant of "America's Got Talent," stunned the audience with her performance of Carrie Underwood's "Cry Pretty," but not everyone was impressed.
For a 12-year-old, Ansley Burns has crashed and burned several times since her debut on "America's Got Talent," but like a Phoenix, she has managed to rise from the ashes, and get herself into the semifinals.
SHE WENT BACK TO HER COUNTRY ROOTS
Burns went for the performance that would decide if she makes it to the finals, a song from her country sister, Carrie Underwood, "Cry Pretty." The little girl wearing a white dress, and surrounded by beautiful feather stage décor, sang her heart out, as she tried to impress the judges and the audience.
Fortunately, she succeeded in stunning the audience with her impressive voice. The first semifinals guest judge, Sean Hayes, complimented the young singer's skills and compared her to Karen Carpenter.
One of the little girl's fans wrote on Twitter:
"… I thought she did great."
BURNS PERFORMANCE GOT FROWNED AT BY SOME
Despite the impressive performance Burns put up, it was not enough to please everyone. Simon Cowell and Howie Mandel thought the song the girl who got to the semifinals by the Dunkin Save, chose was wrong for her, and equally frowned at her stage décor.
Some of AGT viewers also took to social media to complain about the young girl's performance. One Twitter user wrote:
"Ansley is really good but is no one really going to talk about how she clearly messed up?"
Another tweeted:
"Ansley should never have [made] it this far. Sorry to be so harsh; she's really cute but was off almost the whole song."
SOMEONE ELSE GOT HIGH PRAISE
While Burns performance got mixed reviews, one contestant, Kodi Lee, once again wowed everyone and got nothing but high praises. At the semifinals, the 22-year-old who's blind and autistic, performed Calum Scott's "You Are The Reason."
Lee's beautiful rendition of the song touched the judges and audience, who chanted his name and turned on their flashlights. Even Cowell could not help but smile, and Gabrielle Union, said:
"We are all thankful to be in your Orbit."
One Twitter user tweeted about the performance:
"Amazing performance by Kodi Lee, and even more amazing that he gives a reason to set and reach goals."
Many AGT fans expect Lee to make it to the finals and possibly win the competition. But Burns future hangs in the balance, and chances are, she's finally used up her lifelines.
Please fill in your e-mail so we can share with you our top stories!