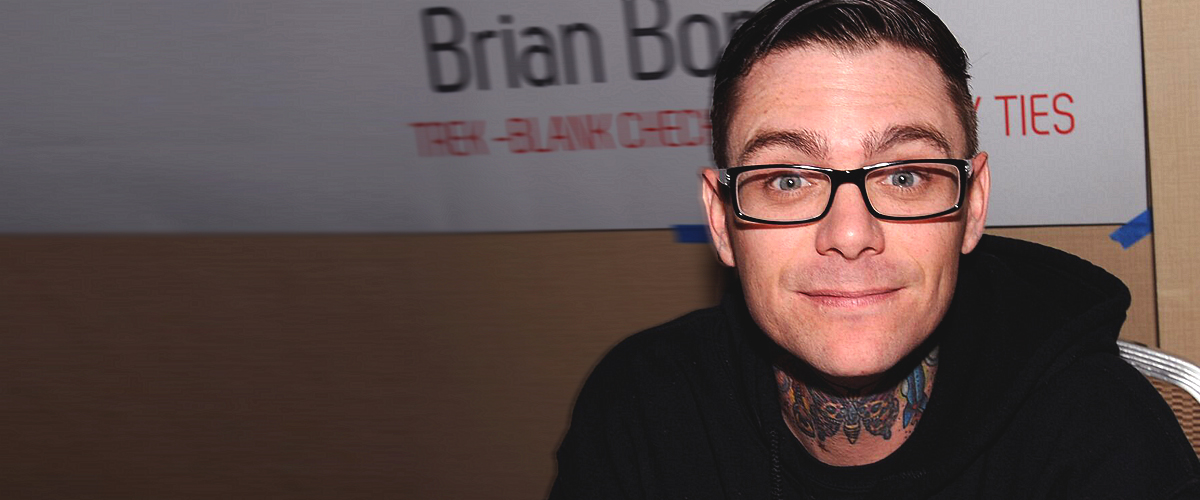 Getty images
'Family Ties' Brian Bonsall Shares First Photos of Newborn Son: 'True Love at First Sight'

Brian Bonsall was the youngest of the bunch on the hit 1980 sitcom "Family Ties." Now, the former child actor has a family of his own to care for.
Brian Bonsall, 37, was a California-born child actor who both started and ended his career in film at a young age — even by Hollywood's standards.
At just four, Brian joined the cast of "Family Ties" for season five. He won three "Young Artist Awards" for playing Andy Keaton on the beloved family show.
Brian Bonsall welcomed a newborn son
Recently, Brian welcomed a boy of his own when wife Courtney Bonsall gave birth to their son, Oliver Leon Bonsall. The actor announced the news on Instagram in a post found below.
He wrote:
"This little punk rocker just showed up. Say hello to Oliver Leon Bonsall. 6lbs 11.8oz born at 12:59 am August 24th, 2019. My Wife is my hero and they both have my heart. True love at first sight."
Brian, who clearly has a sense of humor, shared another photo two days earlier. In it, he fed his son with a bottle and since Oliver had one eye open and the other closed, Brian wrote: "Giving me the ol' pirate eye!"
With his large arm and neck tattoos, Oliver looked more like a traditional troublemaker than baby Oliver, but clearly, the big guy is a softie when it comes to his family.
In another post, Brian showed a closeup of his son's face. Oliver wore a small frown and had one hand near his tiny ear. "I need to speak to the manager," Brian captioned the adorable shot.
He gained tons more respect for his wife
Brian and Courtney got married back in 2017. With the birth of their first child, Brian has gained even more love and respect for his partner, who apparently is a tattoo lover as well.
In a late July post, Brian uploaded a selfie shot of he and Courtney and paid tribute to her pregnancy journey in the caption. "My wife is amazing," he began.
He called it eye-opening to see pregnancy first hand and went on to describe women as being "tough as [expletive]" before adding, "43 days to go until this little dude shows his face."
Now that he's finally here, we can't wait to see how Brian plays his role as a dad. In other areas of life, he's had a fairly bumpy ride so far.
Brian's path in life hasn't been easy
After ending his film career in 1995, Brian opted to go into music. He became part of a band called "Late Bloomers" and over the years he's done tours with several other artists and bands.
Unfortunately, Brian did not escape from the behavior that typically plagues child stars. Due to substance abuse, he was arrested for assaulting his friend with a bar stool in 2010.
In 2007, he went to jail for domestic violence against his girlfriend. Brian also made his way onto the wanted list for violating his probation from the assault charge.
Difficulties began back in 2001 when Brian was first arrested for drinking and driving. The same thing occurred in 2004. Music seemed to help him out of things.
Hopefully, fatherhood will make up for his troubled past
Now, it's Brian's little bundle of joy that will most likely keep him on the straight path — literally. Brian might even be returning to the small screen after some decades.
In December 2018, he was in a short comedy film called "Slaughsages." According to IMDb though, the budget was only $15,000. and it appeared to be a bust.
Maybe Brian isn't quite ready to take acting seriously again. Regardless, he seems more than ready to be a great dad to his precious son. We wish them both health and happiness.
Please fill in your e-mail so we can share with you our top stories!