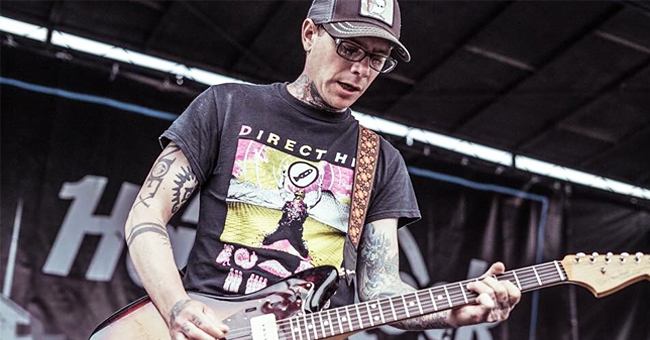 instagram.com/mrbrianbonsall
Brian Bonsall of 'Family Ties' Shares a Photo Taken with His Pregnant Wife Courtney
"Family Ties" star Brian Bonsall is going to be a father for the first time! The actor shared a photo of his wife, Courtney Bonsall, on Instagram and revealed that they are going to be parents pretty soon.
Best known for his role as Any Keaton in the hit American sitcom "Family Ties," Brian married Courtney in 2017. The soon-to-be parents are a little over a month away from being parents for the first time.
In an Instagram post, the actor shared how pregnancy is an "eye-opening experience" and praised women for being tough.
He wrote:
"My Wife is amazing. Witnessing pregnancy first hand is eye-opening. Women are tough as shit. My Wife is tough as shit. 43 days to go until this little dude shows his face."
FANS REFLECTED ON THEIR PERSONAL EXPERIENCES
Fans related to Brian Bonsall, taking to the comments to share their own experiences with pregnancy.
"Yeah, those mood swings while feeling pain. But the joy in the end is amazingly worth it!" one fan commented.

Fan's comment on Brian Bonsall's post. | Source: Instagram/mrbrianbonsall
Another fan shared how parenthood is a tiring yet rewarding experience, writing: "Excited for you guys. Parenthood is definitely exhausting but so rewarding with all the love you get with a little one."

Fan's comment on Brian Bonsall's post. | Source: Instagram/mrbrianbonsall
A third fan reflected their own experience of being a parent for the first time.
"Exciting time for sure man. Our little girl just turned one and it's the most life changing thing ever. My wife is my freaking hero after watching go through her pregnancy!!!" they wrote.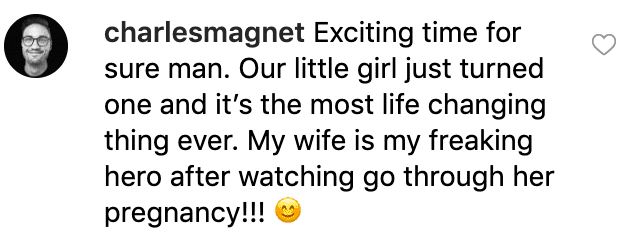 Fan's comment on Brian Bonsall's post. | Source: Instagram/mrbrianbonsall
BRIAN'S TUMULTUOUS LIFE AFTER "FAMILY TIES" ENDED
Brian's transition from a child star to an adult was full of ups and downs.
In April 2010, the actor was sentenced to two years probation after pleading guilty to assault charges against his best friend, Michael Trujillo. The duo got into a fight and Brian hit his friend with a broken bar chair.
Before the incident, Brian was on the wanted list for violating the probation he received for assaulting his girlfriend in 2007.
His first got arrested in 2001 for a "drink and drive" charge followed by an arrest in 2004 for the same offense.
After his parents moved to Boulder, Colorado from his birth town of Torrance, California, Brian got more inclined towards music. Eventually, he started playing rhythm guitar for Lowjob (aka Bootjack&Bonz), a popular punk rock band based in Denver.
Please fill in your e-mail so we can share with you our top stories!