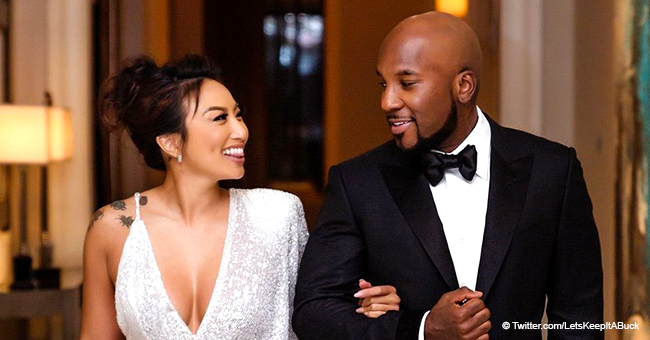 Twitter/LetsKeepItABuck
Rapper Jeezy Confirmed That He's Dating 'The Real' Co-host Jeannie Mai Saying 'She's Amazing'

Jeezy and Jeannie Mai have been keeping their love under wraps, but now that the secret is out, the rapper is gushing about his wonder girl.
Rapper Jeezy and 'The Real' co-host Jeannie Mai came out as a couple after the SnoBall event.
And now that the relationship is official, Jeezy can't stop talking about how fabulous Mai is.
RAPPER JEEZY IS IN LOVE
The Grammy nominee opened up during a recent interview about his latest album "The Legend of the Snowman", and of course, the conversation turned to the lady who has melted his heart.
Jeezy played coy at first, admitting only that "Life is great," but after a little coaxing he gushed about Mai:
"Life is amazing She's amazing too, by the way," he said.
Mai and Jeezy stepped out for the first time officially as a couple at his Snoball gala
JEANNIE MAI HINTED AT THE "SECRET" ON "THE REAL"
The grapevine has been buzzing since Mai and Jeezy were spotted on a snap on Malika Haqq's Instagram in January. Mai admitted to hanging out with Jeezy on "The Real" but that is as far as she'd go.
"Jeezy and I hang out. He's very special to me, so we don't really have a label to define what it is we're doing. We're just having a good time together," she said.
THE BIG REVEAL
Mai and Jeezy stepped out for the first time officially as a couple at his Snoball gala, an event he created to raise money raised money for his non-profit organization Street Dreams.
Mai was his date, and the two demonstrated their mutual affection publicly for the first time.
AND THE FUTURE?
What does the future hold for the new couple, we wondered? But the two are keeping their cards close to the vest.
Mai had just recently gone through a traumatic divorce, but you know the story about falling off a bike? You should get back on again ASAP.
Maybe the next news we hear will be about a closer bond between this adorable couple!
JEANNIE MAI AND JEEZY MAKE IT OFFICIAL
After the couple confirmed their relationship when Jeannie Mai accompanied Jeezy to his inaugural SnoBall Gala in Atlanta as his date, the couple has been posting adorable snaps on Instagram, finally admitting their love.
Jeezy shared a photo of himself and Mai both wearing white, and "The Real" presenter looks positively glam in a huge pair of pussy-cat spectacles and red lipstick.
"She love when I talk dat fly $hit... ? #wcw" Jeezy wrote.
Now that the cat is out of the bag, we look forward to seeing many more photos of them together, celebrating their love.
Please fill in your e-mail so we can share with you our top stories!