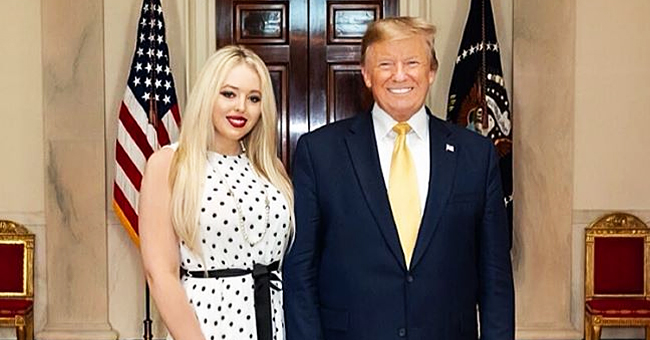 instagram.com/tiffanytrump
First Daughter Tiffany Trump Celebrates Her 'Last First Day of School' with a Dazzling New Photo

President Trump's youngest daughter Tiffany takes to social media to commemorate new beginnings as she returns to school for her third and final year.
Tiffany shared the picture via Instagram some hours ago, and it has already amassed over 40,000 likes. The snap features the young beauty in a blue patterned dress that reached well past her knees.
The dress is not form-fitting but is belted and designed with a thigh-high slit up its front so that it still flatters Tiffany's womanly physique. The 25-year-old brought the look to a perfect finish leaving her long blonde mane to flow down her back and face sporting just a tad bit of makeup.
She paired the dress with a pair of matching blue shoes and a black designer bag. Tiffany looks every bit the brainy beauty that she is as she posed for the picture smiling brightly at the camera.
"Last first day of school #3L #georgetownlaw #hoyalawya," the First daughter wrote to caption the picture.
Just as her caption hints, the photo was taken while she was at school. She is pictured leaning back against a sturdy block sign that reads Georgetown University Law Center.
Just a few months ago, Tiffany made the news with headlines reporting that she is writing her final exam thus marking the end of her second year of law school. By the look of things, she is back for her third year and couldn't be more excited about it.
Netizens took to the comments section of her new post to send encouraging words as the post comes amidst scandalous reports of her strained relationship with her father.
One supportive fan wrote:
"Girl you are shining so bright I almost went blind #loveit #studyhard."
Another such comment reads:
"You will do great!! What an incredible attorney you will be!!"
"You're a beautiful person inside and out. You're so grounded compared to your stepbrothers and sister you go, girl ... No wonder your mother Divorced him," one user even boldly wrote alluding to the recent news.
Madeleine Westerhout, who has since been fired from the White House, started the scandal after sharing that President Trump thinks Tiffany is "overweight." According to reports, Westerhout, who was Trump's personal assistant, disclosed that the president hates to be in the same picture as his youngest daughter because of this.
In response, Trump called Westerhout's comments "hurtful to some people" and said the situation was "unfortunate." He also refuted the claims proudly stating that he loves Tiffany. It is a heartwarming sight to see that despite the reports, Tiffany has pushed on with her life proving herself to be emotionally healthy.
Please fill in your e-mail so we can share with you our top stories!