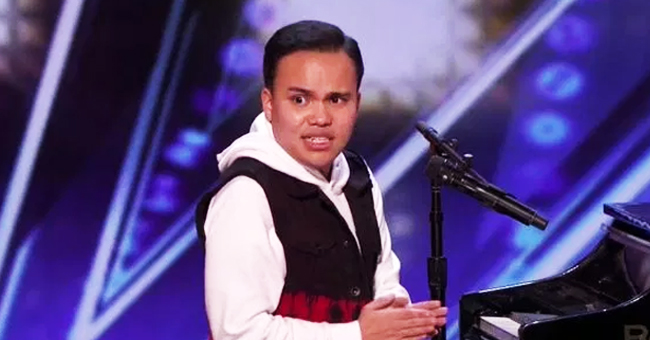 youtube.com/America's Got Talent
Kodi Lee's Mother Said He Always Had 'Raw, Pure Talent' He Wanted the World to See & Now He's Doing That on AGT
"America's Got Talent" contestant, Kodi Lee, is voted through to the finals. The yound vocalist has other breathtaking performances up his sleeve. He's been holding it in to show the world what he's capable of.
Kodi Lee, the 22-year-old singer, was born with optic nerve hypoplasia and was diagnosed with Autism at the age of 4. His touching story aside, the singer captivates the audience with his musical renditions.
Kodi won Gabrielle's golden buzzer after he left the entire audience, including the judges, speechless and on their feet with his cover of "A song for you," by Donny Hathaway.
During the semi-finals of AGT, which hit the air Tuesday night, the singer got voted through to the finals and his mother, Tina, talked to People about her son.
"I think he's been holding this in to give it all to the world."
KODI'S RAW TALENT AND BOOST OF ENERGY
According to Tina, Kodi's passion for his art and his showmanship is soaring due to his experience in the talent show.
"I think what he's receiving in return is what he's been looking for. He's always had this talent, this raw, pure talent, that he's been wanting to show to the world," she said of her son.
"He's always had this boost of energy. I think he's been holding this in to give it all to the world," the doting mother added.
GABRIELLE BELIEVES KODI CAN CHANGE THE WORLD
The talented contestant is getting a lot of support from the judges as well as the viewers at home. AGT judge, Gabrielle Union, talked to "People," and commented on Kodi's potential. Kodi "will change the world," she said.
The singer's mother added that Kodi is finally getting in touch with his feelings through the comments of the judges and the audience.
"He has a hard time communicating but reading their comments is actually helping him to understand how they are feeling. It's like he's starting to understand more of what they're saying. He's really trying to communicate."
GABRIELLE'S BELIEF ABOUT KODI STANDING STRONG
Union is standing firm behind her golden buzzer winner; she praised Kodi after the semi-finals on Tuesday night. She says that Kodi is constantly topping himself:
"He's got so much more to offer. I think we're really looking at the tip of the iceberg. He really is changing the world, he's really shifting the culture."
The vocalist will come face-to-face with singer Benicio Bryant, dance troupe Light Balance Kids (guest judge Ellie Kemper's Golden Buzzer winners), violinist Tyler Butler-Figueroa (Simon Cowell's Golden Buzzer winner), and Ndlovu Youth Choir.
The stage is set for the contestants to prove their worth and claim the glory that lies ahead. May the best act win.
Please fill in your e-mail so we can share with you our top stories!