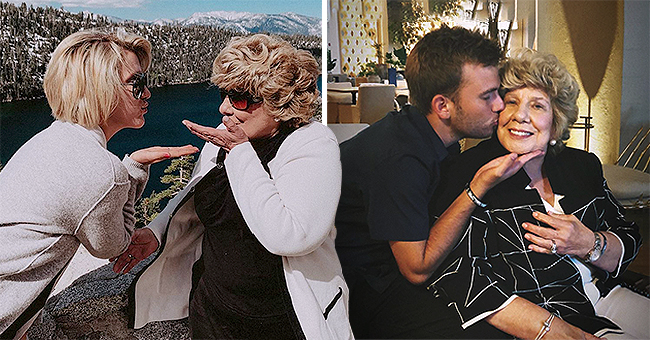 instagram.com/chasechrisley // instagram.com/savannahchrisley
Todd Chrisley's Kids Send Birthday Wishes to Grandma Faye & Share Touching Photos of Them Posing

Grandma Nanny is 75! Todd Chrisley's children, Savannah and Chase, sent the celebrant heartfelt wishes alongside touching photos of special moments with her.
Todd Chrisley's son and daughter, Chase and Savannah took to Instagram to celebrate their grandmother on her 75th birthday with touching photos and heartfelt words.
In the post shared by Savannah, she wrote alongside a photo of herself and her grandma blowing each other a kiss,
"Happy Birthday to one of the best grandma in the world."
She continued amid other words,
"Thanks for being you! One of the kindest, most loving human beings I have I ever met," and promised to take her on a trip soon.
Chase, on his part, wrote alongside a photo of him kissing Grandma Nanny on the cheek,
"Happy birthday to this wonderful soul! I love you and can't wait to do more [things] with you. I love you."
Todd also had some kind words about his mother. After wishing his children's grandmother a happy birthday, he wrote on Instagram,
"… there are no words that will ever explain how blessed I am to have you as my mother."
He added that through every trial and tribulation, she led their family through the darkness, and he is grateful to God for "this blessing of strength and perseverance that my mother has taught us all."
Grandma Nanny has been the glue that holds Todd's family together. She has weathered cancer and death rumours, and remains a beacon of light to her son and grandchildren; something the family needs as the reality star, and his wife Julie battle tax evasion charges.
In August, the "Chrisley Knows Best" stars got indicted for tax evasion, wire fraud, and conspiracy bank fraud. They pleaded not guilty in an Atlanta court and got released on bail for $100,000 unsecured bond.
The couples' attorney, Bruce H. Morris, declared them innocent in a press statement. He said,
"The allegations contained in the indictments are based on complete falsehoods. The Chrisley's are innocent of all charges."
Asides from the indictment, that same month, the reality stars had a scare with their son, Kyle, getting hospitalized. Fortunately, it was nothing serious, and the young TV star returned home after a few days in the hospital.
Through it all, the Chrisleys' have remained together, shooting their reality show, and Savannah, Chase, and Grandma Nanny have a new episode of "Growing Up Chrisley" out on the USA Network.
Please fill in your e-mail so we can share with you our top stories!