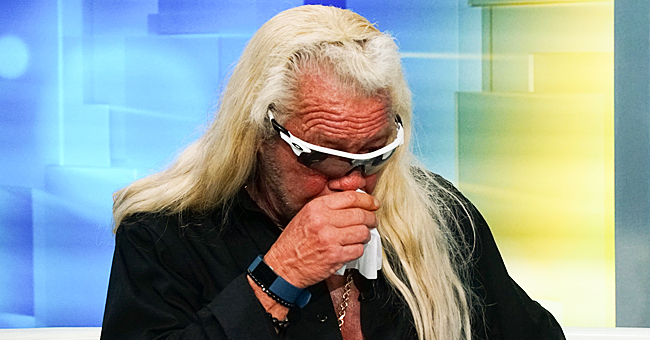 Getty images
Duane Chapman from 'Dog the Bounty Hunter' Reveals He Can't Handle Seeing Scenes with Late Wife Beth in New Show
In a new interview before the premiere of his new show, "Dog's Most Wanted," Duane "Dog" Chapman, revealed it's difficult for him to watch scenes that feature his late wife, Beth Chapman.
It's no secret that since Beth Chapman passed away, her husband, Duane "Dog" Chapman has found it challenging to cope with the loss. In a new interview with TMZ, he revealed the depth of the impact Beth's death had on him.
IT'S DIFFICULT TO WATCH SCENES WITH BETH IN THEM
Duane, while talking about his new show, "Dog's Most Wanted," said he will be watching it when it premieres on September 5, like everyone else.
He explained that he stepped away from his usual tradition of editing the footage until the final cut because it was difficult to watch scenes that had his late wife.
The "Dog the Bounty Hunter" star said,
"I didn't get involved in making cuts for the show because it was too hard to watch cutting her out of something."
The TV star also revealed that on the last day Beth shot a scene, she tasered a guy they were after.
THE CHAPMANS' HAVE SUPPORT FROM THE "DOG POUND"
The deceased worked on DMW until she couldn't, and her daughter Bonnie, like Duane, is not sure she can handle seeing her late mom on TV without breaking down in tears. In a Twitter post, the young woman wrote,
"I'm also pretty sure I'm [going to] cry seeing footage of mom I haven't seen before."
While that might be true, the Chapmans' have gotten a lot of messages on social media to let them know they are not alone. Fans of the bounty hunting family created the hashtags, "#DogsMostWanted," and "#ThisOnesForBeth," as a show of support.
The "Dog Pound" is equally excited to see the late reality star again and watch her live out her last days on earth.
DUANE WILL HAVE FAMILY AND FRIENDS WITH HIM
The new show chronicles Beth's fight with cancer, and how she chose to live on the hunt till she hiked up the stairway to heaven. In one of the promo clips released, fans got to see the moment the reality star who died from complications resulting from throat cancer found out her immunotherapy was not working.
In the clip, the late bounty hunter sat beside Duane when she got the call from her doctor bearing the news. The deceased tried to hold herself together after finding out she had to go back to chemo, while her husband paced outside the car.
DMW premieres on WGN America at 9 pm ET, and Duane will watch it in the company of his friends and family. Although he is confident he will go out of the room a lot, the bounty hunter is determined to see it through, to honor the woman he loved.
Please fill in your e-mail so we can share with you our top stories!