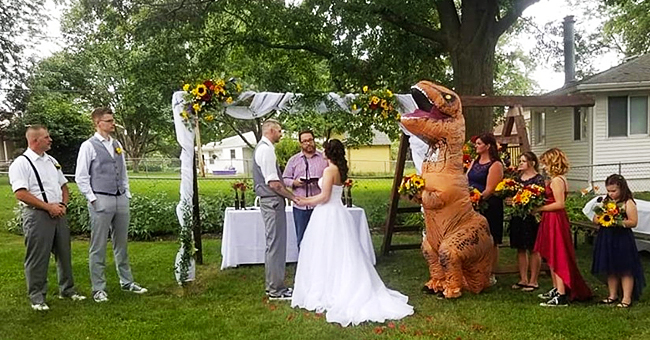 facebook.com/christina.a.meador
Bridesmaid Came to Her Sister's Wedding in T-Rex Costume after Being Told She Can Wear Anything
A simple backyard wedding in Nebraska turned interesting when the Maid of Honor decided to show up in an inflatable Tyrannosaurus-rex (T-rex) costume.
In planning her wedding, Deanna Adams did away with the mandated attire for her Bridal party, telling her bride's maids that their attire for the special day is within their personal decisions.
The Maid of Honor, also the bride's sister, Christina Meador, took the advice to the next level, showing up to the wedding in something rather unconventional, which ultimately gained the attention of everyone at the celebration.
In a post on Facebook, a photo showed a peaceful garden wedding happening in a backyard, with the bride and groom just about to exchange vows. Captured in the photo are the groomsmen and bride's maids, which garnered 34,000 shares, and 17,000 comments with the Maid of Honor shown dressed as a T-rex.
Meador narrated that the decision to come as a dinosaur initially started as a joke. The Maid of Honor shared that her sister, Adams, knows well that she is not keen on wearing formal dresses. Hence, the decision to allow her bridal party to wear anything as they please.
Now, while deciding on what to wear, Meador considered different costumes, including Tardis of "Doctor Who," but she shares she's always wanted a dinosaur costume.
The photo, which was shared by Meador on August 10 via Facebook, garnered an array of comments, with some even joking if they could do it to their friend's wedding ceremony. The post also received adverse reactions, to which Meador explained that they probably just did not know her sister personally.
"It's not a joke, it's a giant middle finger at spending thousands of dollars and putting ungodly amounts of pressure on ourselves just to please a bunch of people who, in the end, only want free food and drinks," Adams said in defense of her sister.
Sibling agreement is definitely a beautiful sight, but not always the case, especially with one having special requests on potentially the best day ever. A previous report highlights a brother's request to his sister to avoid breastfeeding her child in public, even suggesting that she should do it in the bathroom.
With the sister's refusal, the two end up burning bridges, with the brother even seeking the opinion of netizens on his stance on the matter.
Please fill in your e-mail so we can share with you our top stories!