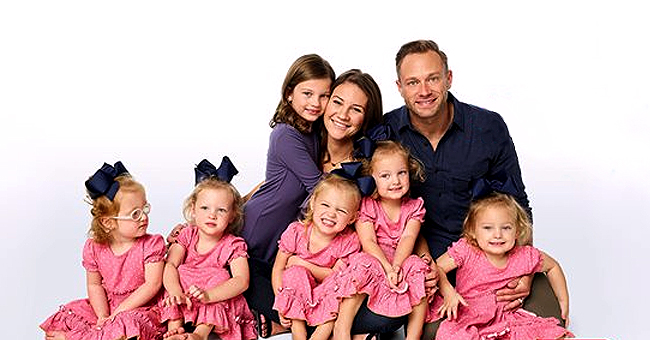 facebook.com/OutDaughtered
20 Fun, Adorable, and Even a Bit Revealing Facts about Popular TV Show 'Outdaughtered'
The Busbys and their six daughters have held a place in the heart of their audience since 2016 after the show's first season aired. Now, waiting for the fifth season, fans can get to know more about this adorable and 'girly' family.
The Busby family made history on television and in the world when they welcomed their quintuplets in 2015. Adam and Danielle already had a little daughter, Blayke, born in April 2011, who repented became the older sister of the quintuplets
The reallity show has a faithful audience that has enjoyed the experiences of this unusual family, where the challenges of raising five newborns at the same time are a great effort and dedication without equal, not without fun moments and tons of love.
20. ADAM AND DANIELLE MEET AT WORK
In 2003 both worked in Lake Charles, Louisiana where they lived. Danielle and Adam worked at Target side by side and they fell in love there. Adam noticed how beautiful Danielle was and after tell them asked to date.
19. THE FAMILY MOVED FROM LOUISIANA TO TEXAS
Danielle and Adam got married in 2006, and before the quintuplets were born they made the decision to move from Lake Charles, Louisiana, where they are both, to League City, Texas. Being a large family they also needed a large house that became their home.
18. THEY HAD PROBLEMS TO GET PREGNANT
After a year of marriage and trying hard to get pregnant, the couple decided to try intrauterine insemination, finding that they had difficulties to conceive naturally. After several rounds, Danielle became pregnant with her firstborn Blayke.
17. SECOND PREGNANCY CAME WITH A SURPRISE
Adam and Danielle did not want to have only one daughter, so they resorted again to intrauterine insemination to achieve a second pregnancy. What they did not expect is that Danielle's four ovules were fertilized and that one of them developed into twins.
16. BOTH REACTIONS
When doctors explained the details of this new pregnancy, and that they had five babies on the way, Adam spilled his hot drink and began to tremble. Meanwhile, Danielle had a completely different reaction: she laughed hysterically due to the shock, and she couldn't stop laughing.
15. DANIELLE HAD TO EAT 4500 DAILY CALORIES
To ensure that both, Danielle and the babies, had what it took to nurture and develop properly, Danielle had to increase her food intake during pregnancy. Under the care of a dietitian, it was up to her to eat much more than she wanted to cover this requirement.
14. THE BABIES ARRIVED BY C-SECTION
The birth of the quintuples was scheduled to be performed by caesarean section at 28 weeks when each weighed about two pounds to two and a half pounds. This type of intervention is the most common in multiple pregnancies. Fun fact: The five girls were born in just four minutes.
13. THREE MONTHS IN NICU
Having been born at 28 weeks, 12 weeks premature, the five babies had to spend three months in the NICU (Neonatal Intensive Care Unit), until they gained enough weight to be able to go home. Adam and Danielle get strong in their faith in God to spend all that time visiting the hospital.
12. POST PARTUM ADAM ISSUES
Adam has spoken openly about his problems after the birth of the quintuplets. He had to fight face to face with postpartum depression, and learn that it is a real problem that affects many parents around the world. He is determined to provide his experience as support for those who go through this same situation.
11. INFIDELITY RUMORS
Probably because of the problems caused by this postpartum depression, Adam was distant and different during that season. Fans of the show soon speculated that he was having an affair and was unfaithful to Danielle. Fortunately, it was only a rumor and the couple was able to overcome this stage together and get stronger.
10. HELP TO CONTROL THEIR FINANCES
Raising five babies at once, one girl and a wife definitely put pressure on any family budget. Adam, as the main provider has struggled to maintain the balance between family expenses and certain expensive tastes and whims. He and Danielle sought specialized advice to efficiently manage their finances.
9. GRANDMA HELPED WITH THE BABIES
Danielle's mother, Mimi, moved with them at the birth of the quintuplets to help with the care of the six girls. Although her collaboration with the family has been invaluable, there was a point when the couple was ready to let her go and take responsibility for the girls on their own.
8. BACK TO PARENT WORK
Adam took time to be with his children and his wife when the quints arrived in the world, but he had to return to work. Father Busby works full time in sales at "Intrinsic Solutions" as Key Account Manager. Danielle, on the other hand, takes care of girls as the main occupation, however, she used to work in the cycles study they own with friends.
7. DANIELLE RETURNED TO HER SLIM BODY
After having five babies, any woman is not only tired but wants to regain her figure and weight as soon as possible. Danielle is no exception, and thanks to fitness, diet, and exercise she managed to look as if she had never had six children.
6. HOW MUCH THEY WIN
Fans have speculated a lot about how much the Busby family earns for participating in the "OutDaughtered" show. According to show production data, each episode has an estimated cost of $ 250,000 to $ 400,000 to perform each episode.
The Busbys receive approximately 10% of that amount. Apart from that, Danielle receives approximately $ 900 for recommending products on Instagram.
5. THE FAMILY SURVIVED HURRICANE HARVEY
Although Adam and Danielle come from Louisiana and are more than familiar with hurricanes for all their years there, they had never had to go through one with the girls. Fortunately, they did not have to evacuate the house, but it was a challenge to entertain the girls the entire time they were locked up without being able to leave.
4. EVERY GIRL HAS HER OWN PERSONALITY
Olivia and Ava are identical twins, and the oldest is Ava sweet but serious. Olivia is funny and loves to make her audience laugh. Hazel is the third and is the only redhead, and for a while she did not develop at the same pace as her sisters so she required therapeutic support, she also has a condition in her eyes that requires surgery and was the last one to walk but has a great vocabulary.
Riley is the fourth girl, and she loves to explore, she is also "drama queen" when she wants something and always gets her way. Parker is the youngest of all, and although she is extremely active she is also the shyest of all.
3. EVERYTHING IS AT HOME
Adam and Danielle have invested in a business with four friends: an indoor cycling company named "Rush Cycle". According to the company's website its purpose is: "being active, getting together with friends, and prioritizing faith and family."
2. FUME RUMORS
Although some fans have speculated that the Busby have a nanny and have not been honest about the help they receive with the girls, they don't have a nanny and take care of the girls both, mainly Danielle, although Adam can presume that he combs the girl's hair better than her.
1. A BLOG TO KEEP IN DETAIL
Fans of the show want to know every detail of the Busby and they love to share their activities with them, so not only can they wait for the season on TV, they can also enjoy them through their blog. Girls sometimes don't want to be in front of the camera and they as parents respect that and don't force them.
Having six toddler girls at home is not easy, and raising them even less, both Adam and Danielle have commented that their faith and their commitment to religion has been essential to successfully go through the stages so far, this is a fundamental part of their lives. Until now they are doing pretty well.
Please fill in your e-mail so we can share with you our top stories!