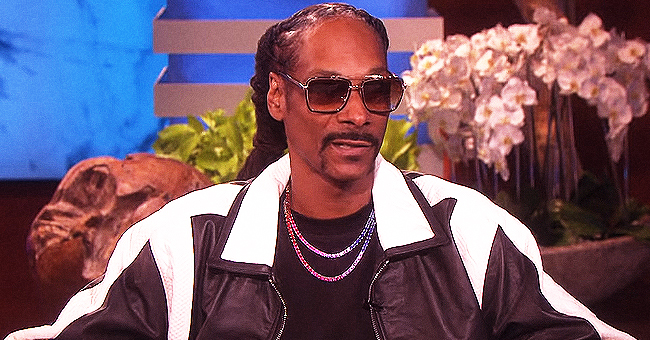 Youtube/TheEllenShow
Snoop Dogg's Post about Females Not Admitting to Their Mistakes in a Relationship Sparked Debate

African American rapper, Snoop Dogg recently sparked debate on his Instagram page with a post that was meant to be hilarious. Most of his followers, however, didn't find it funny!
Snoop Dogg, who is well known for rapping about women, has repeatedly been in the news recently thanks to his controversial statements about women.
One of such is his latest Instagram post which also had something to say about women and their "hypocrisy." The post had the words,
"Never heard a female say, I had a good man, y'all never do nothing wrong huh?"
Well, this didn't go well with many ladies on his page, and they took to Snoop's comment section to air their views. While some (probably men) thought Snoop's post hit the nail right on the head, most couldn't disagree more with the rapper.
A user wrote,
"I never had a good man, so I guess I will have to wait till I find one then I will b able to say that. But first, ima need a map, cause they're nowhere2b found."
TheShadeRoom also shared the same image on their page, and people took to the comment section to speak their truth. Some admitted to being with good men while others (women) even went as far as stating that they had been the bad one in the relationship.
@zean_mind_ wrote,
"I've had good men...they just weren't good for me."
One user hilariously wrote,
"Absolutely never, it's always the men" before adding various laughing emoji.
However, most were honest about the good impact men have had in their lives and commented that not all men are indeed bad.
Known for his misogynist lyrics and various songs about marijuana in the past, the controversial artist has since said he does not regret writing his songs in the littlest bit.
According to him, his sexist past stands as a marker to highlight how far he has come from using derogatory words against women to respecting them.
The unapologetic rapper's decision to take the high road most definitely had a lot to do with having a daughter of his own. Snoop once said,
"Women are getting empowered. Now I have a daughter, I understand."
Regardless of the wordings of his previous music, the rapper has in recent times fought for the equality of the sexes, and this was evident when he made a clip stating that U.S. Women's National Soccer Team should be paid the same as the boys following their world cup win in 2019.
Way to go Snoop!
Please fill in your e-mail so we can share with you our top stories!